Here is everything you need to know about the amazing Disney series Marvel Storyboards including casting, episodes, fun facts and more. I hope you find this listing informative and helpful!
Marvel Storyboards Description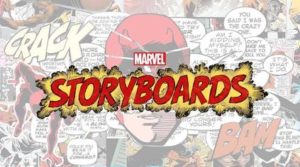 Marvel Storyboards is a 12-episode non-fiction original series that will follow Joe Quesada, Marvel's Chief Creative Officer, as he explores the origin stories and creative drives of storytellers of all mediums, backgrounds, and experiences. Guests include Robert Lopez (songwriter, Book of Mormon, Avenue Q), Samhita Mukhopadhyay (Executive Editor, Teen Vogue), Hugh Jackman (Wolverine), Johnny Weir (Olympic figure skater), and Ed Viesturs (high-altitude mountaineer). See some of the stills in the gallery below.
Each episode, which spans 10-15 minutes, of Marvel's Storyboards will also dive into each visionary's relationship with Marvel as well as a personal account of how they overcame a personal or professional hurdle. (source)
---
Marvel Storyboards Details
Year of Debut: 2020
Type of Series: Live-Action
TV Channel/Platform: Disney+
Marvel Storyboards Trailer:
---
---