Here is everything you need to know about the amazing Disney series Marvel's Cloak & Dagger including casting, episodes, fun facts and more. I hope you find this listing informative and helpful!
Marvel's Cloak & Dagger Description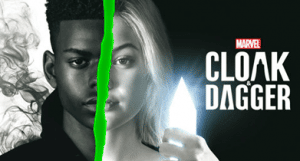 "Marvel's Cloak & Dagger" is a live-action television series based on the Marvel Comics characters of the same name. The show premiered on Freeform (formerly ABC Family) in the United States on June 7, 2018, and it ran for two seasons before concluding on May 30, 2019.
The series follows the story of two teenagers, Tandy Bowen (Dagger) and Tyrone Johnson (Cloak), who are from very different backgrounds but find themselves connected by a mysterious event that occurred in their childhood. Tandy comes from a privileged background and possesses the ability to create daggers of light. Tyrone, on the other hand, comes from a lower-income neighborhood and has the power to create portals of darkness, enabling him to teleport.
As the series progresses, Tandy and Tyrone discover their shared connection and the extent of their abilities. They also uncover a conspiracy involving a dangerous drug called "synthetic heroin," which has devastating effects on their community.
"Marvel's Cloak & Dagger" is not only a superhero series but also a coming-of-age drama that explores issues such as race, social inequality, and the impact of trauma. The show tackles relevant and topical themes while telling the story of these two young heroes finding strength in each other and working together to make a positive difference in their city.
The performances of the lead actors, Olivia Holt (Tandy) and Aubrey Joseph (Tyrone), were widely praised for their chemistry and depth of character portrayal. The series also received positive reviews for its engaging storytelling and thoughtful exploration of social issues.
While "Marvel's Cloak & Dagger" concluded its original run after two seasons, the characters have made appearances in other Marvel media, including animated shows and comic books. The show remains a memorable and significant addition to the Marvel television lineup, offering a fresh and character-driven take on two lesser-known Marvel heroes.
---
Marvel's Cloak & Dagger Cast:
Olicia Holt: Tandy Brown
Aubrey Joseph: Tyrone Johnson
Andrea Roth: Melissa Bowen
Gloria Ruben: Adina Johnson
Miles Mussenden: Michael Johson
Carl Lundstedt: Liam
James Saito: Dr. Bernard Sanjo
J.D. Evermore: Detective Connors
---
Marvel's Cloak & Dagger Details:
Year of Debut: 2018
Year of Finale: 2019
Type of Series: Live-Action
TV Channel/Platform: Freeform
Marvel's Cloak & Dagger Trailer:
---