Here is everything you need to know about the amazing Disney series Milo Murphy's Law including casting, episodes, fun facts and more. I hope you find this listing informative and helpful!
Milo Murphy's Law Description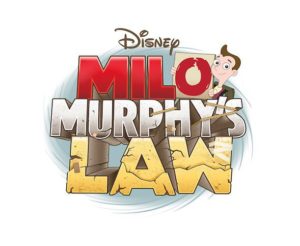 "Milo Murphy's Law" is an animated television series created by Dan Povenmire and Jeff "Swampy" Marsh, the creators of the popular show "Phineas and Ferb." The series premiered on Disney XD on October 3, 2016, and ran for two seasons, concluding on May 18, 2019.
The show follows the misadventures of Milo Murphy, a 13-year-old boy who is a descendant of the great inventor and optimist, Murphy's Law. According to Murphy's Law, anything that can go wrong will go wrong, and Milo seems to be a living embodiment of this concept. Despite his best intentions, Milo finds himself in all sorts of unpredictable and chaotic situations.
Milo is accompanied by his friends Melissa Chase and Zack Underwood, who often get caught up in his hilarious and bizarre predicaments. Together, they navigate through everyday challenges while dealing with the whims of Murphy's Law.
Despite the constant misfortunes, Milo maintains an unwaveringly positive attitude and an adventurous spirit. His optimism, along with the support of his friends, helps turn even the most disastrous situations into memorable and sometimes beneficial experiences.
"Milo Murphy's Law" combines elements of comedy, adventure, and science fiction, featuring time travel, alien encounters, and inventive problem-solving. The show also features occasional crossovers with characters from "Phineas and Ferb," adding an extra layer of fun for fans of both series.
The animation style and humor of "Milo Murphy's Law" are reminiscent of "Phineas and Ferb," making it appealing to fans of the previous show. The series received positive reviews for its witty writing, engaging characters, and creative use of Murphy's Law as a comedic element.
---
Milo Murphy's Law Cast:
Al Yankovic as Milo Murphy
Sabrina Carpenter as Melissa Chase
Mekai Curtis as Zack Underwood
Christian Slater as Elliot Decker
Vanessa Williams as Eileen Underwood 
Ming-Na Wen as Savannah
Sarah Chalke as Miss Murawski
Jemaine Clement as Dr. Zone
Chrissie Fit as Amanda Lopez
Vincent Martella as Bradley Nicholson
Diedrich Bader as Martin Murphy
Pamela Adlon as Brigette Murphy
Kate Micucci as Sara Murphy
Mackenzie Phillips as Principal Elizabeth Milder
Dan Povenmire as Vinnie Dakota
Jeff "Swampy" Marsh as Balthazar Cavendish
Dee Bradley Baker as Diogee
Brett Dalton as Brick 
Gregory Michael Cipes as Mort Schaeffer
Sophie Winkleman as Time Ape 
Michael Culross as Kyle Drako
Kevin Michael Richardson as Coach Nolan Mitchell
---
Milo Murphy's Law Crew:
Creators and Executive Producers: Dan Povenmire and Jeff "Swampy" Marsh
Director and Producer: Robert F. Hughes
Director: Bob Bowen
Story Editor: Scott Peterson
Composer and Song Producer: Danny Jacob
Theme song by: Al Yankovic (Professionally known as "Weird Al")
Production Company: Disney Television Animation
---
Milo Murphy's Law Details:
Year of Debut: 2016
Year of Finale: 2019
Type of Series: Animated
TV Channel/Platform: Disney XD
Milo Murphy's Law Trailer:
Buy Movie
---
---