Here is everything you need to know about the amazing Disney series Motherland Fort Salem including casting, episodes, fun facts and more. I hope you find this listing informative and helpful!
Motherland Fort Salem Description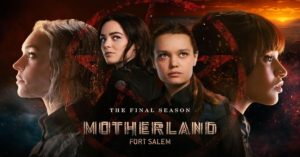 "Motherland: Fort Salem" is a supernatural drama television series that premiered on Freeform on March 18, 2020. The show was created by Eliot Laurence and is set in an alternate version of contemporary America.
In this world, witches made a significant impact on American history, forming an alliance with the government during the Salem witch trials. Instead of being persecuted, witches are now recognized as a vital part of society and play a crucial role in the military.
The story centers around three young women, Raelle Collar, Tally Craven, and Abigail Bellweather, who are chosen to attend Fort Salem, a military academy for witches known as the "Spree." The Spree are a terrorist group of rogue witches who seek to disrupt society. The trio is placed in a unit called "The Bellweather Unit," where they must learn to harness their powers and work together to defend their country against the Spree and other supernatural threats.
The series delves into complex themes of loyalty, power, and the moral implications of using magic in a military context. It also explores the personal struggles of the main characters as they navigate their roles as witches and the responsibilities that come with their abilities.
"Motherland: Fort Salem" has been praised for its unique and refreshing take on witchcraft and its thought-provoking exploration of societal and political issues. The show's diverse and well-developed characters, as well as its strong female-centric narrative, have resonated with audiences.
---
Motherland Fort Salem Details:
Year of Debut: 2019
Year of Finale: 2022
Type of Series: Live-Action
TV Channel/Platform: Freeform
Motherland Fort Salem Trailer:
---