Here is everything you need to know about the amazing Disney series Rolie Polie Olie including casting, episodes, fun facts and more. I hope you find this listing informative and helpful!
Rolie Polie Olie Description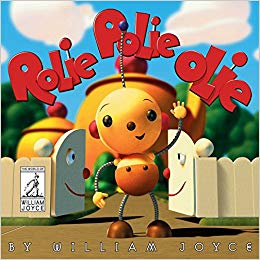 "Rolie Polie Olie" is an animated children's television series that aired on various platforms, including Disney Channel and Playhouse Disney (now Disney Junior). The show is based on the children's book series of the same name by William Joyce.
The series is set in a futuristic and imaginative world inhabited by adorable and round-shaped characters known as "roundies." The main character is Olie Polie, a young and curious robot boy. He lives with his family, including his parents, Polina (Mom) and Percy (Dad), and his little sister Zowie. Together, they embark on various adventures and navigate the ups and downs of family life in their quirky and mechanical world.
"Rolie Polie Olie" is known for its colorful and whimsical animation style, as well as its gentle and positive storytelling. The show incorporates themes of friendship, family, problem-solving, and learning, making it suitable for young viewers. It promotes creativity, imagination, and the importance of strong family bonds.
Throughout the series, Olie and his friends encounter various challenges and predicaments, but they always find solutions through teamwork and creativity. The show's lighthearted humor and imaginative settings captivate young audiences, making it a favorite among preschoolers and their parents.
"Rolie Polie Olie" was well-received and garnered multiple awards during its run, including Daytime Emmy Awards for Outstanding Children's Animated Program. It remains a beloved classic for its timeless appeal and its ability to entertain and educate young viewers.
---
Rolie Polie Olie Cast:
Cole Caplan: Olie
Kristen Bone: Zowie
Joshua Tucci: Billy Bevel
Robert Norman Smith: Spot/Big Box/Space Dog
Adrian Truss: Mr. Polie / Uncle Gizmo
Catherine Disher: Mrs. Polie
Len Carlson: Pappy
Noah Reid: Screwy
Jennifer Gould: Miss Triangle
Ellen Ray Hennessy: Bonita
Rebecca Brenner: Polly Pi
Philip Williams: Baxter
Michael Cera: Little Gizmo
Sunday Muse: Binky
Richard Binsly: Dicey
Howard Gerome: Klanky Claus
---
Rolie Polie Olie Details:
Year of Debut: 1998
Year of Finale: 2006
Type of Series: Animated
TV Channel/Platform: Playhouse Disney
Rolie Polie Olie Trailer:
Buy Movie
---