Here is everything you need to know about the amazing Disney series Secret Society of Second Born Royals including casting, episodes, fun facts and more. I hope you find this listing informative and helpful!
Secret Society of Second Born Royals Description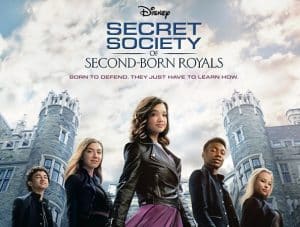 "Secret Society of Second Born Royals" is a live-action Disney Channel Original Movie that premiered on Disney+ in September 2020. The film is a mix of fantasy, action, and coming-of-age genres.
The story follows Sam, a rebellious and seemingly ordinary teenager who discovers that she is actually a second-born royal. As a second-born, Sam possesses a special superpower that is common among all second-born royals in various royal families around the world. These powers are known as "Meta-abilities," and they grant the second-born royals unique abilities such as invisibility, telekinesis, and super speed.
Sam is recruited into a secret society called the "Secret Society of Second Born Royals," where she learns to harness her newfound abilities and embrace her royal heritage. The society's mission is to protect the kingdoms and maintain peace while the first-born heirs handle the more public duties.
As Sam trains alongside other second-born royals from different countries, she forms bonds with her newfound friends and learns the importance of teamwork and responsibility. Together, they must face an unexpected threat that endangers the world and prove their worthiness to be heroes.
"Secret Society of Second Born Royals" features themes of self-discovery, empowerment, and the importance of embracing one's uniqueness and potential. The film blends elements of fantasy and action with relatable coming-of-age challenges, making it appealing to a wide range of audiences.
---
Secret Society of Second Born Royals Cast:
Peyton Elizabeth Lee (Andi Mack): Sam
Faly Rakotohavana: Prince Matteo
Isabella Blake Thomas: Princess January
Olivia Deeble: Princess Roxana
Niles Fitch: Prince Tuma
Skylar Astin: James
Elodie Young: Queen Catherine
---
Secret Society of Second Born Royals Crew:
Executive Producers: Zanne Devine, Austin Winsberg and Mike Karz
Co-Producer: Juliana Janes
Director: Anna Mastro
---
Secret Society of Second Born Royals Details:
Year of Debut: 2020
Type of Series: Live-Action
TV Channel/Platform: Disney+
Secret Society of Second Born Royals Trailer:
---