Here is everything you need to know about the amazing Disney series Shake It Up including casting, episodes, fun facts and more. I hope you find this listing informative and helpful!
Shake It Up Description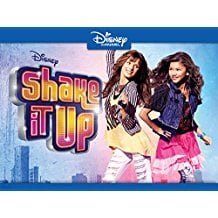 "Shake It Up" is a live-action Disney Channel Original Series that aired from 2010 to 2013. The show was created by Chris Thompson and stars Bella Thorne and Zendaya in the lead roles.
The series follows the lives of two best friends, CeCe Jones (Bella Thorne) and Rocky Blue (Zendaya), who fulfill their dream of becoming professional dancers on a popular TV show called "Shake It Up, Chicago!" The show-within-a-show format allows viewers to see both the characters' personal lives and their experiences as dancers on the hit dance show.
CeCe is outgoing and adventurous, while Rocky is more reserved and level-headed. Despite their differences, they share a deep friendship and a passion for dance. Together, they navigate the challenges of teenage life, school, and their budding careers in the entertainment industry.
"Shake It Up" is known for its energetic dance sequences and catchy musical performances, as well as its positive portrayal of friendship, teamwork, and following one's dreams. The show addresses relatable themes for its target audience, such as self-confidence, perseverance, and the importance of staying true to oneself.
Throughout the series, CeCe and Rocky encounter various adventures, mishaps, and comedic situations, often getting themselves into entertaining and hilarious predicaments. The show also features supporting characters, including the boys Deuce Martinez and Ty Blue, CeCe's younger brother Flynn, and the quirky and over-the-top show host, Gary Wilde.
"Shake It Up" was well-received by young audiences and contributed to the rise of its lead actresses, Bella Thorne and Zendaya, who have since become successful actors and performers in their own right.
---
Shake It Up Details:
Year of Debut: 2010
Year of Finale: 2013
Type of Series: Live-Action
TV Channel/Platform: The Disney Channel
Shake It Up Trailer:
Buy Movie
---
---