Here is everything you need to know about the amazing Disney series Shop Class including casting, episodes, fun facts and more. I hope you find this listing informative and helpful!
Shop Class Description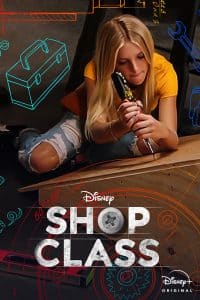 "Shop Class" is a reality competition series that aired on Disney+ in 2020. The show combines elements of a reality competition with a creative design challenge and is geared towards family audiences.
In "Shop Class," teams of young aspiring builders and makers from diverse backgrounds compete against each other to showcase their creativity and craftsmanship skills. Each episode features a unique design challenge in which the teams are tasked with building and fabricating various projects from scratch using materials like wood, metal, and other construction materials.
Throughout the competition, the teams work together to create functional and visually impressive projects, which range from amusement park rides to innovative furniture and structures. The challenges encourage teamwork, problem-solving, and out-of-the-box thinking as the teams face time constraints and technical obstacles.
The projects are judged by a panel of experts who evaluate each team's designs, creativity, and execution. The winning team of each episode receives a "Golden Hammer" trophy and the satisfaction of knowing their work has been recognized by industry professionals.
"Shop Class" aims to inspire young viewers to explore their creativity, embrace hands-on skills, and discover the joy of making and building things. It emphasizes the value of teamwork, perseverance, and the importance of learning from mistakes in the pursuit of creating something unique.
The show also promotes STEM (Science, Technology, Engineering, and Mathematics) education by showcasing how practical skills and knowledge in these fields can be applied to real-world projects.
---
Shop Class Crew:
Producers: Hanger 56
Executive Producers: John Stevens, Spike Feresten, Richard Rawlings, Ruth Amsel, Justin Long and Charles Steenveld
---
Shop Class Details:
Year of Debut: 2020
Type of Series: Reality
TV Channel/Platform: Disney+
Shop Class Trailer:
---