Here is everything you need to know about the amazing Disney series Star vs. the Forces of Evil including casting, episodes, fun facts and more. I hope you find this listing informative and helpful!
Star vs. the Forces of Evil Description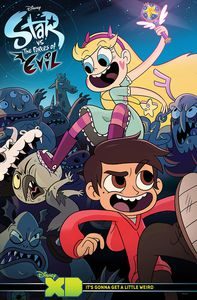 "Star vs. the Forces of Evil" is an animated fantasy-comedy series that aired on Disney Channel and Disney XD from 2015 to 2019. The show was created by Daron Nefcy and quickly gained a dedicated fanbase for its unique blend of humor, action, and imaginative storytelling.
The series follows the adventures of Star Butterfly (voiced by Eden Sher), a magical princess from the dimension of Mewni. On her 14th birthday, Star is given the family's powerful wand, which she is expected to master. However, her reckless and unpredictable nature causes chaos in her kingdom. To help her learn responsibility and control her powers, Star's parents send her to Earth, where she stays with the Diaz family.
On Earth, Star befriends Marco Diaz (voiced by Adam McArthur), a responsible and level-headed boy who becomes her loyal companion. Together, they have wild and fantastical adventures battling various magical creatures and interdimensional foes while protecting Earth and Mewni from dangerous villains.
Throughout the series, "Star vs. the Forces of Evil" combines elements of comedy, action, and coming-of-age themes. It explores topics like friendship, identity, and the responsibilities that come with growing up and wielding great power. The show is known for its quirky and endearing characters, as well as its colorful and imaginative animation style.
The series also subverts traditional princess tropes, with Star being a feisty and rebellious princess who embraces her individuality and is not afraid to challenge gender norms and expectations.
"Star vs. the Forces of Evil" has a devoted following and remains popular among fans of animated series, particularly those who appreciate dynamic storytelling, strong character arcs, and a touch of magical whimsy. The show's exploration of themes relevant to young audiences, combined with its action-packed and humorous adventures, has made it a beloved addition to Disney's animated programming.
---
Star vs. the Forces of Evil Cast:
Eden Sher as Star Butterfly
Adam McArthur as Marco Diaz
Alan Tudyk as Ludo and King Butterfly
Nia Vardalos as Mrs. Diaz
Artt Butler as Mr. Diaz
Nate Torrence as Ferguson
Jenny Slate as Pony Head
Dee Dee Rescher as Skullnick
---
Star vs. the Forces of Evil Crew:
Creator and Executive Producer: Daron Nefcy
Production Company: Disney Television Animation
---
Star vs. the Forces of Evil Details:
Year of Debut: 2015
Year of Finale: 2019
Type of Series: Animated
TV Channel/Platform: Disney XD
Star vs. the Forces of Evil Trailer:
Buy Movie
---