Here is everything you need to know about the amazing Disney series Star vs. the Forces of Evil including casting, episodes, fun facts and more. I hope you find this listing informative and helpful!
Star vs. the Forces of Evil Description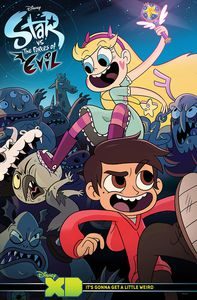 Annie Award-nominated "Star vs. The Forces of Evil" follows Star Butterfly, a fiercely awesome teen princess from another dimension. After receiving an all-powerful magic wand for her 14th birthday, Star is sent to Earth by her Royal Parents to live with the Diaz family and their responsible son, Marco, where she brings along her own unique inter-dimensional style to her new home. Together with Marco, they navigate high school and embark on dimension-hopping adventures across the multiverse while keeping her wand out of the clutches of arch-nemesis Ludo and his monstrous forces of evil.
Acclimating to life on a new planet with a new family can be challenging, but fortunately for Star, karate-loving Marco acts as her guide, helping her adapt to her new planet. In return, Star helps Marco come out of his shell, teaching him to take chances and make the most of every day, even if that means living a little too close to the edge. Although opposites in many ways, Star and Marco become fast friends and rely on each other as they experience new adventures and challenges across a variety of exciting dimensions. Along her journey, Star must learn how to use her powers responsibly and stay out of trouble, or risk being shipped off to St. Olga's Reform School for Wayward Princesses on her home planet while she waits to inherit the throne.
Star's biggest threat is evil villain Ludo, from her home planet Mewni, who, despite his size, ego, insecurity and inept army of monsters, tracks her down on Earth and relentlessly attempts to steal her magic wand. Ludo rules his strong, dim-witted monster minions with absolute authority, whether he's commanding them in battle or simply ordering them to rub his tiny, weak feet; and he will stop at nothing to capture Star's extraordinarily powerful wand so he can take over the multiverse.
The "Star vs. The Forces of Evil" voice cast includes Eden Sher ("The Middle") as Star Butterfly, Adam McArthur ("Star Wars: The Clone Wars") as Marco Diaz, Alan Tudyk (Broadway's "Spamalot") as Ludo and King Butterfly. Recurring are Nia Vardalos ("My Big Fat Greek Wedding") as Mrs. Diaz, Artt Butler ("Her") as Mr. Diaz, Nate Torrence ("Super Fun Night") as Ferguson, Jenny Slate ("Parks and Recreation") as Pony Head, Dee Dee Rescher ("Ferris Bueller's Day Off") as Skullnick.
The series is created and executive-produced by 2009 California Institute of the Arts (CalArts) graduate Daron Nefcy. Produced by Disney Television Animation, "Star vs. The Forces of Evil" carries a TV-Y7 parental guideline. (source)
---
Star vs. the Forces of Evil Cast:
Eden Sher as Star Butterfly
Adam McArthur as Marco Diaz
Alan Tudyk as Ludo and King Butterfly
Nia Vardalos as Mrs. Diaz
Artt Butler as Mr. Diaz
Nate Torrence as Ferguson
Jenny Slate as Pony Head
Dee Dee Rescher as Skullnick
---
Star vs. the Forces of Evil Crew:
Creator and Executive Producer: Daron Nefcy
Production Company: Disney Television Animation
---
Star vs. the Forces of Evil Details:
Year of Debut: 2015
Year of Finale: 2019
Type of Series: Animated
TV Channel/Platform: Disney XD
Star vs. the Forces of Evil Trailer:
Buy Movie
---