Here is everything you need to know about the amazing Disney series Teamo Supremo  including casting, episodes, fun facts and more. I hope you find this listing informative and helpful!
Teamo Supremo  Description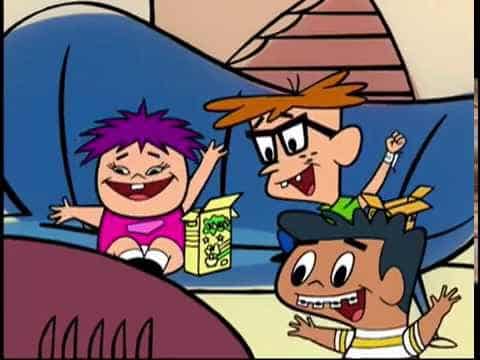 Teamo Supremo was an animated TV series that aired on Disney Channel in 2002. It followed the adventures of three superhero kids who fought crime and solved mysteries.
---
Teamo Supremo  Cast:
Captain Crandall / Cap: Spencer Breslin
Hector Felipé Corrio / Skate Lad: Alanna Ubach
Brenda / Rope Girl: Alanna Ubach
Governor Kevin: Martin Mull
The Chief: Brian Doyle-Murray
Mrs. Crandall: Julia Sweeney
Jean Crandall: Rachel Crane
Mr. Paulson: Fred Willard
The Silver Shield a.k.a. Gordon: Robert Stack
The Dark Talon a.k.a. Nick: Gary Owens
Patience: Vene L. Arcoraci
Ollie Jimson: Jason Marsden
Baron Blitz: Maurice LaMarche
Technor the Mechanized Man: Jeff Bennett
Chopper Daddy: Jess Harnell
Scooter Lad a.k.a. Snake a.k.a. Justin: Pamela Adlon
The Birthday Bandit a.k.a. B.B. the Clown: Mark Hamill
Madame Snake: Sydney Walsh
Mr. Large: Edward Asner
Helius Inflato: Joel Murray
Laser Pirate a.k.a. Larry: Tim Curry
The Gauntlet a.k.a. Crawford: Wallace Shawn
Hypnotheria: April Winchell
Dehydro: Diedrich Bader
Mr. Vague: Gary Cole
Electronica a.k.a. Polly Pixel: Kerri Kenney
Lord Druid: Mark Hamill
Le Poodle: Jeff Bennett
Lo Fi: Michael McKean
Cheapskate: John Kassir
The Tourorist: Tress MacNeille
The Phony Dentist: Tim Curry
Fabrica: Nicole Sullivan
"The Sinister Stylist": Sydney Walsh
"D.J. Despicable": Casey Kasem
Dr. Pogo: John Kassir
Dr. 'Droid: S. Scott Bullock
---
Teamo Supremo  Details:
Year of Debut: 2002
Year of Finale: 2002
Type of Series: Animated
TV Channel/Platform: One Saturday Morning
Teamo Supremo  Trailer:
---