Here is everything you need to know about the amazing Disney series The Bold Type including casting, episodes, fun facts and more. I hope you find this listing informative and helpful!
The Bold Type Description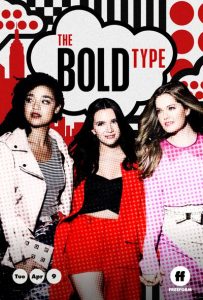 "The Bold Type" is a drama television series that aired on Freeform (formerly known as ABC Family) from 2017 to 2021. The show was created by Sarah Watson and was inspired by the life of former Cosmopolitan magazine editor-in-chief Joanna Coles.
The series is set in the fast-paced world of fashion and journalism and follows the lives of three young women working at the fictional Scarlet magazine, a glossy publication targeted at millennial women. The main characters are:
Jane Sloan (played by Katie Stevens) – A talented and ambitious writer who starts as an assistant and works her way up at Scarlet magazine. Throughout the series, Jane navigates the challenges of being a young journalist, explores her identity, and tackles important social issues through her writing.

Sutton Brady (played by Meghann Fahy) – A fashion assistant at Scarlet with dreams of becoming a fashion designer. Sutton faces obstacles as she tries to balance her career aspirations with her personal life and relationships.

Kat Edison (played by Aisha Dee) – Scarlet's social media director, who is confident, outspoken, and passionate about advocacy. Kat's journey includes exploring her sexuality, taking on leadership roles, and using her platform for activism.
The show revolves around the friendship between the three women and the professional and personal challenges they face in New York City. It explores themes of empowerment, feminism, friendship, self-discovery, and the complexities of modern relationships.
"The Bold Type" is known for its progressive and inclusive storytelling, addressing relevant social and cultural issues such as sexual orientation, gender identity, racial diversity, and workplace dynamics. The series also provides an inside look at the world of media and the pressures faced by young professionals in the industry.
---
The Bold Type Cast:
Katie Stevens: Jane Sloan
Aisha Dee: Kat Edison
Meghann Fahy: Sutton Brady
Sam Page: Richard Hunter
Matt Ward: Alex Crawford
Melora Hardin: Jacqueline
---
The Bold Type Crew:
Executive Producers: Sarah Watson, David Bernad, Joanna Coles, Ruben Fleischer and Holly Whidden
---
The Bold Type Details:
Year of Debut: 2017
Year of Finale: 2021
Type of Series: Live-Action
TV Channel/Platform: Freeform
The Bold Type Trailer:
---