Here is everything you need to know about the amazing Disney series The Care Bears: The Series including casting, episodes, fun facts and more. I hope you find this listing informative and helpful!
The Care Bears: The Series Description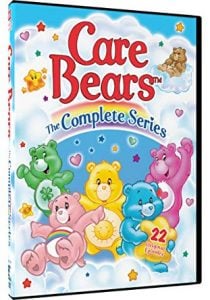 "The Care Bears" is an animated television series that first premiered in 1985 and it ran on Playhouse Disney in 1997. It is based on the popular line of greeting cards and plush toys created by American Greetings Corporation. The show was produced by DiC Entertainment and Nelvana and quickly became a beloved classic during the 1980s.
The series is set in the magical world of Care-a-Lot, a floating cloud kingdom where the Care Bears reside. The Care Bears are a group of lovable, colorful bears, each representing a specific emotion or virtue, such as Love-a-Lot Bear, Funshine Bear, Grumpy Bear, and Cheer Bear. They have the ability to spread love, kindness, and positive emotions through their magical belly badges.
The Care Bears' mission is to help children and people everywhere by using their special abilities to share caring and friendship. When someone is feeling sad or troubled, the Care Bears travel to Earth through a rainbow slide from Care-a-Lot to lend their support and encouragement.
Each episode typically follows the Care Bears as they face challenges in the human world, working together to overcome obstacles and make a positive impact on the lives of those they encounter. They teach valuable life lessons about empathy, understanding, and the importance of caring for one another.
The success of "The Care Bears" led to various spin-off series, movies, and specials over the years, solidifying the characters' enduring popularity. The franchise has continued to evolve and adapt to different generations, bringing joy to new audiences while remaining a cherished part of the childhood memories of many who grew up with the original series.
---
The Care Bears: The Series Cast:
Jim Henshaw: Tenderheart Bear
Bob Dermer: Grumpy Bear
Dan Hennessey: Brave Heart Lion
Chris Wiggins: No Heart
John Stocker: Mr. Beastly
Eva Almos: Friend Bear
Patrice Black: Share Bear
Melleny Brown: Cheer Bear, Baby Tugs Bear
Jayne Eastwood: Birthday Bear
Anni Evans: Champ Bear
Paulina Gillis: Swift Heart Rabbit
Luba Goy: Gentle Heart Lamb, Lotsa Heart Elephant
Janet Laine-Green: Wish Bear
Nonnie Griffin: Funshine Bear
Terri Hawkes: Baby Hugs Bear
Ellen Ray Hennessey: Proud Heart Cat, Bedtime Bear
Marla Lukofsky: Good Luck Bear, Playful Heart Monkey
Eric Peterson: Noble Heart Horse
Pauline Rennie: Cozy Heart Penguin, Grams Bear
Billie Mae Richards: Bright Heart Raccoon
Carolyn Scott: True Heart Bear
Laurie Waller Benson: Polite Panda
Don Francks: Dr. Fright
Keram Malicki-Sanchez
Don McManus: Sour Sam
Greg Swanson: Perfect Panda
---
The Care Bears: The Series Details:
The Care Bears: The Series Trailer:
Buy Movie
---
---