Here is everything you need to know about the amazing Disney series The Proud Family  including casting, episodes, fun facts and more. I hope you find this listing informative and helpful!
The Proud Family  Description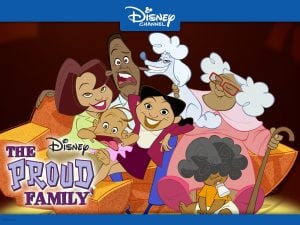 "The Proud Family" is an animated television series that originally aired on Disney Channel from 2001 to 2005. Created by Bruce W. Smith, the show follows the daily lives and adventures of the Proud family, an African-American middle-class family living in the fictional town of Wizardville.
The main character is Penny Proud (voiced by Kyla Pratt), a 14-year-old teenager who navigates the challenges of adolescence, school, and family life. She is a strong-willed and confident young girl with a vivid imagination and a passion for standing up for what is right.
Penny's family members include:
Oscar Proud (voiced by Tommy Davidson) – Penny's father, an overprotective and humorous entrepreneur who runs his own snack food business.

Trudy Proud (voiced by Paula Jai Parker) – Penny's mother, a loving and caring veterinarian who balances work and family responsibilities.

BeBe and CeCe Proud (voiced by Tara Strong) – Penny's mischievous and rambunctious toddler twin siblings.

Suga Mama Proud (voiced by Jo Marie Payton) – Penny's sassy and lively grandmother, who provides comedic relief and wisdom.
Throughout the series, Penny faces various challenges at school and in her personal life, dealing with issues such as friendship, self-confidence, and social responsibility. The show also addresses themes of cultural identity, racial awareness, and the importance of family bonds.
"The Proud Family" is known for its vibrant animation, humor, and its efforts to represent and celebrate African-American culture. It often incorporates elements of hip-hop and soul music, and it features guest appearances from prominent African-American figures, musicians, and actors.
The series received positive reviews for its positive portrayal of a diverse African-American family and its efforts to tackle relevant social issues in a family-friendly and accessible way. It was praised for its relatable characters and its ability to entertain both children and adults with its humor and heartwarming moments.
---
The Proud Family  Cast:
Penny Proud: Kyla Pratt
Oscar Proud: Tommy Davidson
Trudy Proud: Paula Jai Parker
Suga Mama Proud: Jo Marie Payton
BeBe & CeCe Proud: Tara Strong
Puff the Dog: Tara Strong
Dijonay Jones: Karen Malina White
Zoey Howzer: Soleil Moon Frye
LaCienega Boulevardez: Alisa Reyes
Sticky Webb: Orlando Brown
Nubia Gross: Raquel Lee
Bobby Proud: Cedric the Entertainer
Wizard Kelly: Aries Spears
Smart Baby/Red-Nosed Baby: Ron Glass
Felix Boulevardez: Carlos Mencia
Sunset Boulevardez: Maria Canals
Papi Boulevardez: Alvaro Gutierrez
Michael Collins: Phil LaMarr
Dr. Payne: Kevin Michael Richardson
Peabo: Cree Summer
Lil' Wiz: Aries Spears
---
The Proud Family  Details:
Year of Debut: 2001
Year of Finale: 2005
Type of Series: Animated
TV Channel/Platform: One Saturday Morning
The Proud Family  Trailer:
Buy Movie
---