Here is everything you need to know about the amazing Disney series The Suite Life on Deck including casting, episodes, fun facts and more. I hope you find this listing informative and helpful!
The Suite Life on Deck Description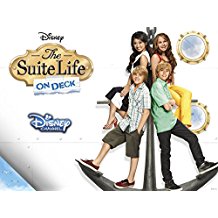 "The Suite Life on Deck" is a spin-off of the popular Disney Channel series "The Suite Life of Zack & Cody." It aired from 2008 to 2011 and follows the adventures of twin brothers Zack and Cody Martin, along with hotel heiress London Tipton, as they embark on a semester-at-sea program aboard the luxury cruise ship S.S. Tipton.
The main characters in "The Suite Life on Deck" are:
Zack Martin (played by Dylan Sprouse) – The mischievous and outgoing twin brother.

Cody Martin (played by Cole Sprouse) – The studious and responsible twin brother.

London Tipton (played by Brenda Song) – The ditzy and fashion-obsessed hotel heiress.

Mr. Marion Moseby (played by Phill Lewis) – The strict and no-nonsense ship's hotel manager, who also served as the hotel manager in "The Suite Life of Zack & Cody."
The show takes place on the S.S. Tipton, a high-end cruise ship that travels to various exotic locations around the world. While aboard the ship, Zack, Cody, and London experience new cultures, encounter unique challenges, and get into humorous escapades. Mr. Moseby continues to look after the twins and London, ensuring that their mischievous behavior doesn't disrupt the ship's operations.
"The Suite Life on Deck" retains the same comedic style and charm as its predecessor, "The Suite Life of Zack & Cody." It continues to entertain audiences with its witty humor, engaging storylines, and relatable characters. The show also explores themes of friendship, personal growth, and the ups and downs of teenage life.
The spin-off series was well-received by fans and viewers of the original show, and it remains a beloved part of Disney Channel's lineup of shows from the late 2000s.
---
The Suite Life on Deck Cast:
Dylan Sprouse: Zack Martin
Cole Sprouse: Cody Martin
Brenda Song: London Tipton
Debby Ryan: Bailey Pickett
Phill Lewis: Mr Moseby
Doc Shaw: Marcus Little
---
The Suite Life on Deck Details:
Year of Debut: 2008
Year of Finale: 2011
Type of Series: Live-Action
TV Channel/Platform: The Disney Channel
The Suite Life on Deck Trailer:
Buy Movie
---
---