Supreme Leader Snoke
Last Updated on: October 2nd, 2022
Who is Supreme Leader Snoke?
Supreme Leader Snoke is a fictional character in the Star Wars franchise. He is the leader of the First Order, a military and political organization that rose from the remnants of the Galactic Empire. Snoke is a mysterious figure, with his true origins and identity left largely unexplained in the films. He appeared in the films Star Wars: Episode VII – The Force Awakens and Star Wars: Episode VIII – The Last Jedi, and was portrayed through motion capture by actor Andy Serkis.
The Collection:
Here is the Internet's largest collection of Supreme Leader Snoke related movies, TV shows, toys and other products. As always, new pieces are added to this collection regularly.
---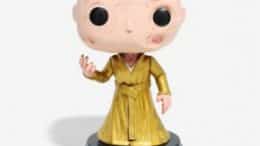 Funko Pop! presents a stylized vinyl collectible bobble-head of Supreme Leader Snoke from the new film Star Wars: The Last Jedi.
---