Here is everything you need to know about the amazing Lucasfilm movie Star Wars: The Last Jedi including casting, reviews, fun facts and more. I hope you find this listing informative and helpful!
Star Wars: The Last Jedi Description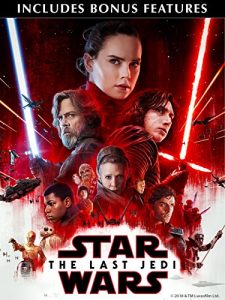 "Star Wars: The Last Jedi" is the eighth episode in the main "Star Wars" saga, released in 2017. It was directed and written by Rian Johnson and picks up immediately after the events of "Star Wars: The Force Awakens."
The film continues the journey of Rey, played by Daisy Ridley, as she seeks the guidance of the legendary Jedi Master, Luke Skywalker, portrayed by Mark Hamill. Meanwhile, the Resistance, led by General Leia Organa (Carrie Fisher), is facing dire circumstances as the First Order, under the command of Supreme Leader Snoke (Andy Serkis) and Kylo Ren (Adam Driver), seeks to crush the remnants of the Resistance.
"The Last Jedi" delves into the internal struggles of its characters, particularly Rey and Kylo Ren, exploring themes of hope, failure, and the nature of the Force. The movie received a mix of reactions from fans and critics, as it took some unexpected and bold narrative choices, challenging traditional "Star Wars" conventions.
The film is praised for its stunning visual effects, intense action sequences, and strong performances from its cast. It also serves as a fitting tribute to the late Carrie Fisher, who portrayed Princess Leia.
Despite some controversies, "Star Wars: The Last Jedi" remains an essential installment in the Skywalker saga, providing significant character development and paving the way for the final chapter of the trilogy, "Star Wars: The Rise of Skywalker."
---
Star Wars: The Last Jedi Cast:
Mark Hamill: Luke Skywalker
Carrie Fisher: General Leia Organa
Adam Driver: Kylo Ren
Daisy Ridley: Rey
John Boyega: Finn
Oscar Isaac: Poe Dameron
Andy Serkis: Supreme Leader Snoke
Lupita Nyong'o: Maz Kanata
Domhnall Gleeson: General Hux
Anthony Daniels: C-3PO
Gwendoline Christie: Captain Phasma
Kelly Marie Tran: Rose Tico
Laura Dern: Vice Admiral Amilyn Holdo
Frank Oz: Yoda
Benicio del Toro: DJ
---
Star Wars: The Last Jedi Crew:
Director: Rian Johnson
Producers: Kathleen Kennedy and Ram Bergman
Writer: Rian Johnson
Music: John Williams
Cinematography: Bob Ducsay
---
Star Wars: The Last Jedi Details
Star Wars: The Last Jedi Trailer:
---