Here is everything you need to know about Walt Disney World's Hollywood Studios' Star Wars Launch Bay exhibit including history, fun facts, photos and more. I hope you find this listing informative and helpful!
Description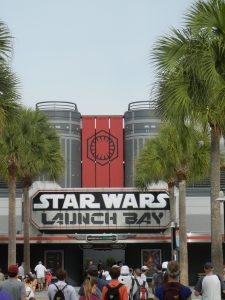 Star Wars Launch Bay at Disney World is a captivating and immersive experience that transports visitors to a galaxy far, far away. Nestled within the iconic Hollywood Studios park, this attraction is a must-visit for fans of the Star Wars saga. As you enter the Launch Bay, you step into the heart of the Star Wars universe, with a wealth of interactive exhibits, breathtaking memorabilia, and exciting encounters waiting to be explored.
The journey begins as you walk through the corridors adorned with Star Wars concept art and artifacts, providing a glimpse into the creative process that brought this epic saga to life. You can marvel at authentic props and costumes from the movies, allowing you to get up close to iconic pieces like lightsabers, droids, and even Sith artifacts.
One of the highlights of Star Wars Launch Bay is the chance to meet beloved Star Wars characters. Encounter heroes like Chewbacca, Rey, and Darth Vader himself for unforgettable photo opportunities and interactions that make you feel like a true part of the Star Wars story.
For those interested in the creative side of Star Wars, there are informative exhibits showcasing the making of the films and the evolution of the franchise over the years. Additionally, you can watch behind-the-scenes videos and interviews with the minds behind Star Wars.
The Launch Bay is also home to a merchandise shop where you can find exclusive Star Wars-themed merchandise, including apparel, collectibles, and souvenirs to commemorate your visit.
Star Wars Launch Bay at Disney World is a thrilling, educational, and immersive experience that brings the magic of the Star Wars galaxy to life for fans of all ages. It's a place where dreams of exploring a galaxy filled with adventure and wonder become a reality. May the Force be with you as you embark on this unforgettable journey.
---
Important Details
Star Wars Character(s) in this Post:
BB-8