Here is everything you need to know about the amazing Lucasfilm movie Star Wars: A New Hope including casting, reviews, fun facts and more. I hope you find this listing informative and helpful!
Star Wars: A New Hope Description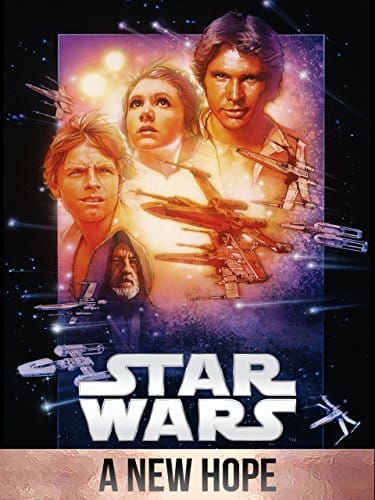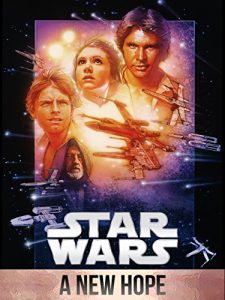 "Star Wars: A New Hope" is a science fiction film released in 1977, directed by George Lucas. It is the first installment in the original Star Wars trilogy and the fourth episode in the Star Wars saga, chronologically. The movie is now commonly referred to as simply "Star Wars."
The film is set in a galaxy far, far away, where the evil Galactic Empire, led by the sinister Darth Vader, is in control. The Rebel Alliance, a group of freedom fighters, is fighting against the Empire's tyranny. The story centers on a young farm boy named Luke Skywalker (played by Mark Hamill), who dreams of adventure beyond his home planet of Tatooine.
When Luke discovers a message hidden in a droid named R2-D2 (played by Kenny Baker), he learns that it contains plans to the Empire's ultimate weapon, the Death Star, which can destroy entire planets. Along with the wise Jedi Knight, Obi-Wan Kenobi (played by Alec Guinness), and the charismatic smuggler Han Solo (played by Harrison Ford), Luke embarks on a journey to deliver the plans to the Rebel Alliance and become a hero in the fight against the Empire.
"Star Wars: A New Hope" is known for its groundbreaking special effects, captivating storytelling, and iconic characters. It introduced audiences to a galaxy of Jedi knights, Sith lords, droids, and various alien species.
The film's success revolutionized the film industry and became a cultural phenomenon, leading to a vast franchise of movies, TV shows, books, comics, and merchandise that has spanned over four decades.
"Star Wars" became a pop culture phenomenon and has had a lasting impact on the science fiction genre and cinema as a whole. It is widely regarded as one of the greatest films in cinematic history and has garnered a dedicated fan base around the world.
The success of "Star Wars: A New Hope" led to two sequels, "The Empire Strikes Back" (1980) and "Return of the Jedi" (1983), completing the original trilogy. Later, prequel films and a sequel trilogy were made, expanding the Star Wars saga further.
Overall, "Star Wars: A New Hope" is a classic film that continues to captivate audiences of all ages with its timeless story of heroism, friendship, and the battle between good and evil in a galaxy far, far away.
---
Star Wars: A New Hope Cast:
Mark Hamill as Luke Skywalker
Harrison Ford as Han Solo
Carrie Fisher as Princess Leia
Peter Cushing as Grand Moff Tarkin
Alec Guinness as Obi-Wan "Ben" Kenobi
Anthony Daniels as C-3PO
Kenny Baker as R2-D2
Peter Mayhew as Chewbacca
David Prowse as Darth Vader
James Earl Jones: Darth Vader voice
---
Star Wars: A New Hope Crew:
Director: George Lucas
Producer: Gary Kurtz
Screenplay: George Lucas
Music: John Williams
Cinematography: Gilbert Taylor
---
Star Wars: A New Hope Details
Star Wars: A New Hope Trailer:
---
Star Wars Character(s) in this Post:
Beru Lars