Wedge Antilles
Last Updated on: May 3rd, 2023
Who is Wedge Antilles?
Wedge Antilles is a fictional character in the Star Wars franchise. He is a human male and a skilled pilot who appears in the original Star Wars trilogy. Wedge is one of the few Rebel pilots to survive both the attack on the Death Star in "Star Wars: Episode IV – A New Hope" and the Battle of Hoth in "Star Wars: Episode V – The Empire Strikes Back." He is a member of Rogue Squadron, a group of elite Rebel pilots, and he participates in the climactic battle of "Star Wars: Episode VI – Return of the Jedi," where he helps to destroy the second Death Star. Wedge is portrayed by actor Denis Lawson, and he has also appeared in various Star Wars novels, comics, and video games.
The Collection:
Here is the Internet's largest collection of Wedge Antilles related movies, TV shows, toys and other products. As always, new pieces are added to this collection regularly.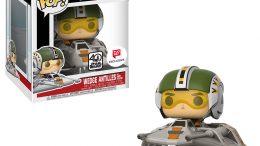 Continue the epic journey as it unfolds in Star Wars: The Last Jedi! The larger than life characters from Episode 8 of the Star Wars…
---