Here is everything you need to know about the amazing Lucasfilm movie Solo: A Star Wars Story including casting, reviews, fun facts and more. I hope you find this listing informative and helpful!
Description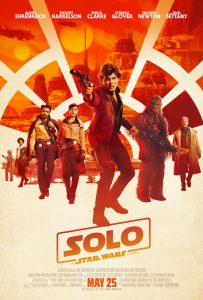 "Solo: A Star Wars Story" is a standalone anthology film in the "Star Wars" franchise, released in 2018. Directed by Ron Howard, the film explores the early adventures of the iconic character Han Solo, originally portrayed by Harrison Ford, and is played by Alden Ehrenreich in this film.
The story follows Han Solo as he embarks on a daring journey to become a skilled pilot and smuggler. He befriends Chewbacca, the Wookiee co-pilot of the Millennium Falcon, and encounters Lando Calrissian, portrayed by Donald Glover, who owns the legendary starship. The film delves into Solo's past, including how he acquired the Millennium Falcon and his first encounter with the charismatic Lando.
Throughout the movie, Han faces various challenges, joins a group of thieves, and gets involved in a heist to steal valuable coaxium fuel from an Imperial train. The film also explores his relationship with Qi'ra, portrayed by Emilia Clarke, his childhood friend who resurfaces as a member of a dangerous criminal syndicate.
"Solo: A Star Wars Story" received generally positive reviews for its action sequences, visual effects, and performances, particularly Alden Ehrenreich's portrayal of Han Solo. However, the film faced some criticism related to its pacing and lack of a distinct identity compared to other "Star Wars" films.
Despite not achieving the commercial success of other entries in the saga, "Solo" is appreciated by many fans as a fun and enjoyable addition to the "Star Wars" universe, providing insight into the early life of one of its most beloved characters.
---
Cast:
Alden Ehrenreich: Han Solo:
Woody Harrelson: Tobias Beckett
Emilia Clarke: Qi'ra
Donald Glover: Lando Calrissian
Thandie Newton: Val
Phoebe Waller-Bridge: L3-37
Joonas Suotamo: Chewbacca
Paul Bettany: Dryden Vos
---
Crew:
Director: Ron Howard
Producers: Kathleen Kennedy, Allison Shearmur and Simon Emanuel
Writers: Jonathan Kadean and Lawrence Kasden
Music: John Powell and John Williams
Cinematography: Bradford Young
---
Additional Details
---
Solo: A Star Wars Story Trailer:
---
Star Wars Character(s) in this Post:
Chewbacca