Here is everything you need to know about the amazing Lucasfilm movie Star Wars: The Clone Wars including casting, reviews, fun facts and more. I hope you find this listing informative and helpful!
Star Wars: The Clone Wars Description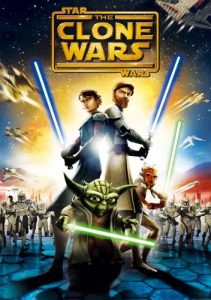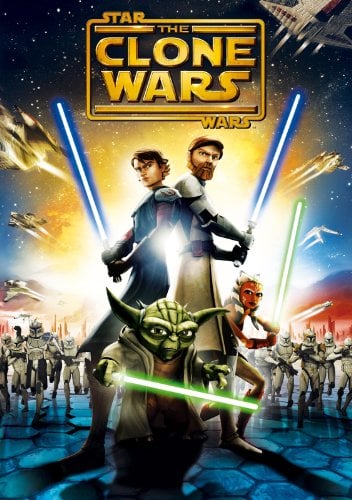 "Star Wars: The Clone Wars" is an animated film released in 2008, set in the "Star Wars" universe. It serves as a prelude to the TV series of the same name, which is set between "Star Wars: Episode II – Attack of the Clones" and "Star Wars: Episode III – Revenge of the Sith."
The film follows Jedi Knights Anakin Skywalker and Obi-Wan Kenobi as they lead the Grand Army of the Republic against the separatist forces of Count Dooku and his droid army. The Separatists have kidnapped Jabba the Hutt's son, Rotta, in an attempt to frame the Jedi and sabotage the peace process between Jabba and the Republic.
Anakin and his Padawan, Ahsoka Tano, are sent on a dangerous mission to rescue Rotta and return him to Jabba. Along the way, they encounter various challenges and face the ruthless Asajj Ventress, a dark side assassin sent by Dooku to thwart their mission.
As the story unfolds, Anakin and Ahsoka form a strong bond and demonstrate their exceptional Jedi abilities, working together to protect Rotta and defeat the Separatist forces. However, they also face personal challenges and confront their own doubts and fears.
The film showcases epic lightsaber battles, thrilling starship chases, and the introduction of new characters, including Ahsoka Tano, who would go on to become a central figure in the subsequent "Star Wars: The Clone Wars" TV series.
"Star Wars: The Clone Wars" received mixed reviews from critics but was generally well-received by "Star Wars" fans. It played an essential role in expanding the lore of the prequel era and delving deeper into the characters and conflicts of the Clone Wars. The success of the film led to the creation of the "Star Wars: The Clone Wars" TV series, which further explored the events of the war and became a beloved addition to the "Star Wars" franchise.
Disney+ and Clone Wars Season 7 :
At the Star Wars Celebration event in April 2019, it was announced that the entire Clone Wars series would be available on the upcoming Disney+ video streaming service. Additionally, there will be a new seventh season exclusive to the service and is aimed at wrapping up the original story arc and better tying various plotlines and gaps together. Season 7 is expected to include 12 episodes. It is unclear if they will all be released at the same time or released individually at a set cadence.
---
Star Wars: The Clone Wars Cast:
Matt Lanter: Anakin Skywalker
Ashley Eckstein: Ahsoka Tano
James Arnold Taylor: Obi-Wan Kenobi, 4A-7
Tom Kane: Yoda, Narrator, Admiral Yularen
Dee Bradley Baker: Captain Rex, Commander Cody, Clone troopers
Christopher Lee: Count Dooku / Darth Tyranus
Samuel L. Jackson: Mace Windu
Anthony Daniels: C-3PO
Nika Futterman: Asajj Ventress, TC-70
Ian Abercrombie: Palpatine / Darth Sidious
Catherine Taber: Padmé Amidala
Corey Burton: Whorm Loathsom, Ziro the Hutt
David Acord: Rotta the Huttlet
Kevin Michael Richardson: Jabba the Hutt
Matthew Wood: Battle droids
---
Star Wars: The Clone Wars Crew:
Director: Dave Filoni
Producers: George Lucas and Catherine Winder
Screenplay: Henry Gilroy, Steven Melching and Scott Murphy
Music: Kevin Kiner and John Williams
---
Star Wars: The Clone Wars Details
Star Wars: The Clone Wars Trailer:
---