Yoda
Last Updated on: February 14th, 2023
Who is Yoda?
Yoda is a fictional character in the Star Wars franchise. He is a male member of an enigmatic and powerful species of aliens called the "Jedi," who are known for their ability to use the mystical energy field known as the Force. Yoda is one of the most iconic and beloved characters in the Star Wars universe, known for his wisdom, his eccentricities, and his unique speech patterns. He first appears in "Star Wars: Episode V – The Empire Strikes Back," where he serves as a teacher and mentor to the young Jedi Luke Skywalker. Yoda has since appeared in numerous Star Wars films, television shows, novels, comics, and video games, and is widely regarded as one of the most powerful and important Jedi of all time. The character was voiced by  Frank Oz.
The Collection:
Here is the Internet's largest collection of Yoda related movies, TV shows, toys and other products. As always, new pieces are added to this collection regularly.
---
---
---
---
---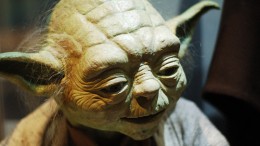 Rumors are swirling about the possible appearance of Yoda puppeteer Frank Oz at the Pinewood Studios, where Star Wars: Episode VIII is being filmed.
---