Here is everything you need to know about the amazing Disney series Star Wars Rebels including casting, episodes, fun facts and more. I hope you find this listing informative and helpful!
Star Wars Rebels Description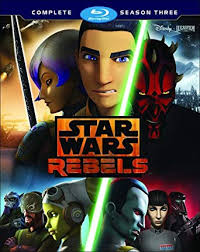 "Star Wars Rebels" is an animated television series set in the Star Wars universe. It aired on Disney XD from 2014 to 2018 and was created by Lucasfilm Animation.
The series is set between the events of "Star Wars: Episode III – Revenge of the Sith" and "Star Wars: Episode IV – A New Hope," bridging the gap between the fall of the Galactic Republic and the rise of the Galactic Empire. It follows a group of rebels who band together to fight against the oppressive rule of the Empire.
The main protagonist is Ezra Bridger (voiced by Taylor Gray), a young Force-sensitive orphan who becomes a key member of the rebel group known as the Ghost crew. Other members include Kanan Jarrus (voiced by Freddie Prinze Jr.), a Jedi Knight in hiding; Hera Syndulla (voiced by Vanessa Marshall), the Twi'lek pilot and leader of the crew; Sabine Wren (voiced by Tiya Sircar), a Mandalorian explosives expert and graffiti artist; Garazeb "Zeb" Orrelios (voiced by Steve Blum), a Lasat warrior; and the droid Chopper (voiced by Dave Filoni).
Throughout the series, the crew of the Ghost conducts covert operations against the Empire, working to undermine its control and support the growing Rebel Alliance. They encounter various iconic Star Wars characters, both from the original trilogy and from other animated series, such as "Star Wars: The Clone Wars."
"Star Wars Rebels" explores themes of hope, sacrifice, and the fight for freedom. It delves into the characters' struggles and growth as they learn to work together as a team and fight for a cause greater than themselves. The show also delves deeper into the mystical aspects of the Force, with Kanan serving as a mentor to Ezra in his Jedi training.
"Star Wars Rebels" has a dedicated fan base, appealing to both long-time Star Wars enthusiasts and newer fans of the franchise. Its combination of compelling characters, exciting action sequences, and its connection to the larger Star Wars mythology has solidified its place as a significant part of the Star Wars canon.
---
Star Wars Rebels Cast:
Taylor Gray: Ezra Bridger
Freddie Prinze, Jr.: Kanan Jarrus
Vanessa Marshall: Hera Syndulla
Tiya Sircar: Sabine Wren
Steven Blum: Garazeb "Zeb" Orrelios
Dave Filoni: "Chopper"
Dee Bradley Baker: Captain Rex
Nathan Kress: Wedge Antilles
Forest Whitaker: Saw Gerrera
Genevieve O'Reilly: Mon Mothma
Phil Lamarr: Bail Organa
Julie Dolan: Princess Leia Organa
Anthony Daniels: C-3PO
Ashley Eckstein: Ahsoka Tano
Sam Witwer: Emperor Palpatine
Ian McDiarmid: Emperor Palpatine
James Earl Jones: Darth Vadar
Stephen Stanton: Grand Moff Tarkin
David Oyelowo: Agent Kallus
Jason Isaacs: Grand Inquisitor
Philip Anthony-Rodriguez: Fifth Brother
Sarah Michelle Gellar: Seventh Sister
Robbie Daymond; Eighth Brother
Lars Mikkelsen: Grand Admiral Thrawn
Billy Dee Williams: Lando Calrissian
Jim Cummings: Hondo Ohnaka
James Arnold Taylor Young Obi-Wan Kenobi
Stephen Stanton: Older Obi-Wan Kenobi
Sam Witwer: Darth Maul
Frank Oz: Yoda
---
Star Wars Rebels Crew:
Creators: Simon Kinberg, Dave Filoni and Carrie Beck
Producers: Kiri Hart, Athena Yvette Potillo and Carrie Beck
Executive Producer: Simon Kinberg, Dave Filoni and Greg Weisman
---
Star Wars Rebels Details:
Year of Debut: 2014
Year of Finale: 2018
Type of Series: Animated
TV Channel/Platform: Disney XD
Star Wars Rebels Trailer:
Buy Movie
---