Here is everything you need to know about the amazing Lucasfilm movie Star Wars: The Force Awakens including casting, reviews, fun facts and more. I hope you find this listing informative and helpful!
Description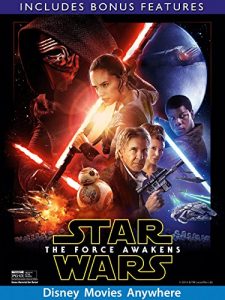 "Star Wars: The Force Awakens" is the seventh installment in the "Star Wars" saga and the first film in the sequel trilogy. It was released in 2015 and directed by J.J. Abrams. Set approximately 30 years after the events of "Star Wars: Return of the Jedi," the movie introduces new characters while also bringing back beloved favorites.
The story follows a scavenger named Rey, played by Daisy Ridley, who discovers a droid named BB-8 carrying a vital piece of information sought by both the First Order, the successor to the Galactic Empire, and the Resistance, the new incarnation of the Rebel Alliance. Along the way, she teams up with Finn, a stormtrooper who has defected from the First Order, and a skilled X-wing pilot named Poe Dameron.
The film also reunites fans with familiar faces like Han Solo, Chewbacca, and Princess Leia, played by Harrison Ford, Peter Mayhew, and Carrie Fisher, respectively. The character Kylo Ren, portrayed by Adam Driver, emerges as a new villain with a connection to the original trilogy's iconic antagonist, Darth Vader.
"The Force Awakens" received widespread critical acclaim for its homage to the original trilogy, strong performances, and impressive visual effects. It successfully reignited the passion of old fans while capturing the hearts of new generations. The film's box office success solidified "Star Wars" as one of the most enduring and beloved franchises in cinema history.
By introducing fresh characters and storylines while maintaining the spirit of the original films, "The Force Awakens" set the stage for an exciting new chapter in the "Star Wars" saga, paving the way for subsequent movies like "The Last Jedi" and "The Rise of Skywalker."
---
Cast:
Harrison Ford: Han Solo
Mark Hamill: Luke Skywalker
Carrie Fisher: General Leia Organa
Adam Driver: Kylo Ren
Daisy Ridley: Rey
John Boyega: Finn
Oscar Isaac: Poe Dameron
Lupita Nyong'o: Maz Kanata
Andy Serkis: Supreme Leader Snoke
Domhnall Gleeson: General Hux
Anthony Daniels: C-3PO
Peter Mayhew: Chewbacca
Max von Sydow: Lor San Tekka
---
Crew:
Director: JJ Abrams
Producers: Kathleen Kennedy, JJ Abrams and Bryan Burk
Writers: Lawrence Kasdan, JJ Abrams and Michael Arndt
Music: John Williams
Cinematography: Dan Mindel
---
Additional Details
---
Star Wars: The Force Awakens Trailer:
---