Finn
Last Updated on: February 14th, 2023
Who is Finn?
Finn, also known as FN-2187, is a character in the Star Wars franchise. He first appeared in the 2015 film "Star Wars Episode VII: The Force Awakens." Finn is a former stormtrooper who defects from the First Order and joins the Resistance. He is depicted as being a skilled fighter and a brave hero, who is willing to put himself in harm's way to protect those he cares about. Finn is a fan-favorite character who has become a central figure in the new Star Wars trilogy and is portrayed by actor John Boyega.
The Collection:
Here is the Internet's largest collection of Finn related movies, TV shows, toys and other products. As always, new pieces are added to this collection regularly.
---
---
---
---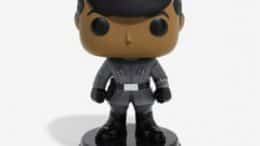 Funko Pop! presents a stylized vinyl collectible bobble-head of Finn from the new film Star Wars: The Last Jedi.
---