Here is everything you need to know about the amazing Disney series LEGO Star Wars Summer Vacation including casting, episodes, fun facts and more. I hope you find this listing informative and helpful!
LEGO Star Wars Summer Vacation Description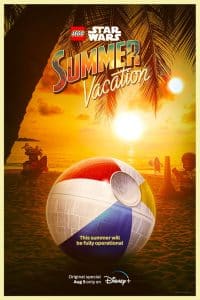 Looking for a much-needed break from stormtroopers and TIE fighters, Finn arranges a surprise vacation for his friends Rey, Poe, Rose, Chewie, BB-8, R2-D2, and C-3PO, aboard the ultra-luxurious Galactic Starcruiser, the Halcyon. But Finn's plan to have one last hurrah together quickly goes awry when he's separated from the group. While searching for his friends, he encounters three Force ghosts: Obi-Wan Kenobi, Anakin Skywalker, and Leia Organa, who each share their own unexpected stories of vacations gone wrong, helping him to understand that holidays are about more than just having fun.
---
LEGO Star Wars Summer Vacation Crew:
Director: Ken Cunningham
Written by: David Shayne
---
LEGO Star Wars Summer Vacation Details:
Year of Debut: 2022
Type of Series: Animated
TV Channel/Platform: Disney+
LEGO Star Wars Summer Vacation Trailer: