Gus Lollygagger (Cinderella)
Last Updated on: February 23rd, 2023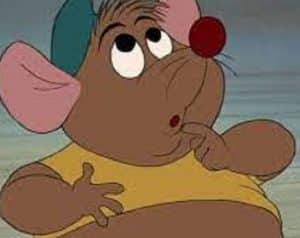 Who is Gus Lollygagger?
Gus Lollygagger is a character in the Disney animated film "Cinderella". He is one of the mice who live in the castle and become friends with Cinderella. Gus is known for his love of food and is often seen snacking or trying to steal scraps from the castle's kitchen. Despite his tendency to get into trouble, Gus is a loyal friend to Cinderella and helps her in her efforts to attend the royal ball. He is a humorous and lovable character in the film who provides comic relief and helps to make the story more lighthearted.
The Collection:
Here is the Internet's largest collection of Gus Lollygagger related movies, TV shows, toys and other products. As always, new pieces are added to this collection regularly.
Movie Appearances
---
---
Song Appearances
---
Park Appearances
---
Related Products
---
---
---
---
---
---
---
In the News
'The World's Most Magical Celebration' Comes to McDonald's with 50 Unique Toys, September 14, 2021
---