Here is everything you need to know about the amazing Coca-Cola Store Rooftop Beverage Bar at Walt Disney World's Disney Springs including history, reviews, fun facts, photos and more. I hope you find this listing informative and helpful!
Coca-Cola Store Rooftop Beverage Bar | Disney World Description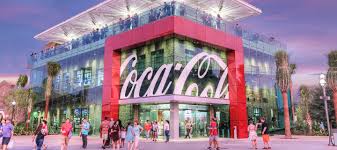 At Disney Springs' Coca-Cola Store Rooftop Beverage Bar, explore classic and exotic flavors from around the world while taking in panoramic views of Disney Springs atop the Coca-Cola Store. (source)
The Ultimate Coca-Cola Experience
Nestle upon this modern perch to embark on a unique tasting adventure.
It's the perfect place to unwind with friends and family! Enjoy a delicious, ice-cold Coca-Cola or choose from a variety of beverages served around the globe such as Beverly from Italy or Thums Up from India. Frozen beverages, smoothies and Coke floats are also refreshing picks.
Time to Taste Test
Discover your new favorite Coca-Cola beverage with these invigorating experiences:
Freestyle Experience – Choose from more than 100 sparkling and still options available within self-serve dispensers. You can sample up to 5 refills within an hour of your initial purchase and even blend to create your own taste.
Create-Your-Own Beverage Experience – Get in touch with your inner mixologist as you muddle fresh ingredients at your table to craft your own delicious drinks.
Tastes Around the World – Take your taste buds on a journey around the world! Try up to 16 different beverages when you order an International, Float or Combo tray.
If your plans allow you to join us in the evenings, select from a special thirst-quenching menu of specialty adult beverages—including a wide variety of handcrafted cocktails, smoothies and flights. (source)
---
Coca-Cola Store Rooftop Beverage Bar | Disney World Details
---
Coca-Cola Store Rooftop Beverage Bar | Disney World Reviews
---