Here is everything you need to know about the amazing Disneyland Hotel at Disneyland including history, reviews, fun facts, photos and more. I hope you find this listing informative and helpful!
Disneyland Hotel Description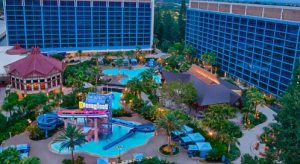 The Disneyland Hotel is a resort hotel located near Disneyland Park in Anaheim, California. It is owned and operated by the Walt Disney Company.
The hotel was opened in 1955, just a few months after Disneyland Park itself, and has undergone several expansions and renovations over the years. It currently features 990 guest rooms, each with its own unique decor and amenities. The rooms are designed with a retro-modern theme and feature modern furnishings and Disney-inspired artwork.
The hotel also has several dining options, including a signature restaurant, character dining experiences, a poolside bar and grill, and a coffee house. Other amenities at the hotel include three swimming pools, a fitness center, a full-service spa, and a variety of recreational activities.
One of the main draws of the Disneyland Hotel is its convenient location, which is just a short walk from Disneyland Park and Disney California Adventure Park. The hotel also provides guests with exclusive perks, such as early admission to the parks and access to special events.
Overall, the Disneyland Hotel is a popular choice for guests who are looking for a retro-modern hotel experience with convenient access to Disneyland Resort attractions. The hotel is known for its classic Disney theming, wide variety of dining and entertainment options, and exclusive guest perks.
Disneyland Hotel Restaurants:
---
Disneyland Hotel Fun Facts
Number of guest rooms: 973 rooms
Amount of function space at the resort: 136,000 sq ft
Size of the resort exhibit hall: 28,968 sq ft
---
Disneyland Hotel Details
Disney Resort: Disneyland Resort
Attraction Type: Hotel
Year Opened: 1955
Address: 1150 Magic Way, Anaheim, CA 92802
Year Opened: (714) 778-6600
---
Disneyland Hotel Reviews
---