Here is everything you need to know about Walt Disney World's Magic Kingdom's extinct Donald Duck's 50th Birthday Parade including history, fun facts, photos and more. I hope you find this listing informative and helpful!
Donald Duck's 50th Birthday Parade | Disney World Description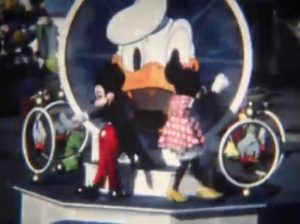 Donald Duck's 50th Birthday Parade was a special celebration held at Walt Disney World Resort in 1984 to commemorate the 50th anniversary of the beloved Disney character, Donald Duck. The parade was a joyful and colorful procession that honored Donald's iconic status in Disney's pantheon of animated characters.
During the parade, guests were treated to a festive display of floats, performers, and Disney characters, all coming together to celebrate Donald's milestone birthday. The floats were creatively designed to showcase various aspects of Donald's personality, adventures, and memorable moments from his many cartoons and films.
Donald Duck's 50th Birthday Parade was a limited-time event and offered a unique opportunity for fans of the mischievous yet lovable duck to join in the celebration of his enduring popularity and contributions to Disney's rich history.
Since the parade took place in 1984, it is not an ongoing attraction or event at the Disney parks. Over the years, Disney has continued to celebrate and honor its beloved characters in various ways, including special parades, shows, and events for milestone anniversaries.
---
Donald Duck's 50th Birthday Parade | Disney World Details
Donald Duck's 50th Birthday Parade | Disney World Experience:
---