Here is everything you need to know about Walt Disney World's Magic Kingdom's extinct Donald's Boat attraction including history, fun facts, photos and more. I hope you find this listing informative and helpful!
Description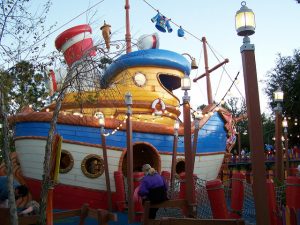 Donald's Boat, also known as "Miss Daisy," was a unique and interactive play area located in Mickey's Toontown Fair (now Fantasyland) in Magic Kingdom at Walt Disney World Resort in Florida. The play area was themed to resemble Donald Duck's houseboat and offered children and families a fun-filled and imaginative experience.
The play area featured a whimsical design with vibrant colors and playful details, true to the style of Toontown. It was shaped like a boat, reflecting Donald's adventurous and seafaring spirit. Inside the boat, there were various play areas, interactive elements, and hands-on activities for children to enjoy.
Kids could climb and explore the decks of the boat, discovering hidden surprises and whimsical features throughout. The play area was equipped with interactive gadgets, levers, and buttons that triggered whimsical effects and playful sounds, encouraging imaginative play and creativity.
In addition to the boat, the surrounding area of Donald's Boat was a part of Mickey's Toontown, an immersive land inspired by the cartoon world of Disney characters. Guests could also visit Mickey Mouse's house, Minnie Mouse's house, Goofy's Playhouse, and other iconic Toontown locations.
Donald's Boat provided a delightful experience for young visitors to Disneyland Park and Magic Kingdom, offering them a chance to step into the world of Donald Duck and engage in imaginative play while exploring his boat.
---
Fun Facts
The name of Donald's Boat is The Miss Daisy.
---
Important Details
Experience:
---
---