Here is everything you need to know about the amazing Disney World restaurant Garden View Tea Room including history, reviews, fun facts, photos and more. I hope you find this listing informative and helpful!
Garden View Tea Room | Disney World Description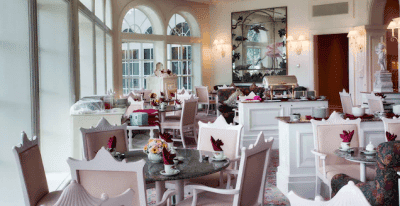 The Garden View Tea Room is a charming and elegant dining venue located at Disney's Grand Floridian Resort & Spa, one of the deluxe resorts at Walt Disney World Resort in Florida. The Tea Room is a popular destination for guests seeking a relaxing and delightful afternoon tea experience in a beautiful setting.
The Garden View Tea Room is known for its traditional afternoon tea service, inspired by the customs of classic English tea traditions. The restaurant offers a menu featuring a wide selection of loose-leaf teas, including black, green, herbal, and specialty blends. Guests can choose their preferred tea from the menu, and the servers provide expert guidance on pairing teas with various pastries and sandwiches.
The tea service includes a three-tiered tray filled with delectable treats, such as finger sandwiches with classic fillings like cucumber, smoked salmon, and egg salad. The middle tier typically features freshly baked scones served with clotted cream and preserves, adding a quintessential touch to the experience. The top tier is reserved for an array of delightful desserts and pastries that are beautifully presented.
The Garden View Tea Room offers both Classic Tea and Princess Tea experiences. The Princess Tea is a special experience designed for younger guests, where little ones can enjoy a themed tea party with favorite Disney princesses.
The ambiance of the Garden View Tea Room is inspired by a Victorian-style garden, with lovely floral patterns, elegant furnishings, and a view of the hotel's picturesque courtyard. The Tea Room is adorned with ornate chandeliers, comfortable seating, and large windows, creating a serene and inviting atmosphere for guests to enjoy their tea time.
---
Garden View Tea Room | Disney World Details
---
Garden View Tea Room | Disney World Reviews
---