Here is everything you need to know about Walt Disney World's Magic Kingdom's It's a Small World ride including history, fun facts, photos and more. I hope you find this listing informative and helpful!
It's a Small World | Disney World Description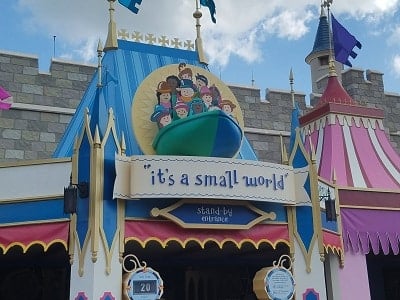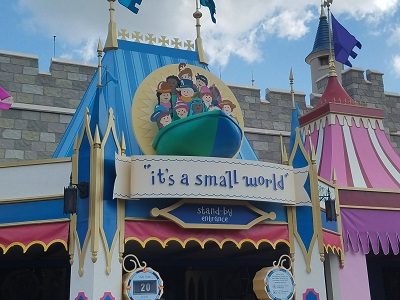 On It's a Small World, located in Walt Disney World Magic Kingdom's Fantasyland, embark on a whimsical boat ride past a jubilant confection of singing children from around the globe.
Sing along to the classic anthem of world peace during a delightful musical boat tour hosted by the children of the world. From a colorful dock, climb aboard a cozy boat and set sail along the Seven Seaways Waterway on a 10-minute journey.
Amid a vibrant, multi-colored backdrop exquisitely crafted out of papier-mâché, glitter and fabric, behold a cast of almost 300 traditionally dressed, dimple darlings from nearly every corner of the globe sing a simple song in their native language about universal harmony and dance. Travel to all 7 continents and, by journey's end, see for yourself that it truly is a small world after all.
Set Sail!
From the snow-capped Swiss Alps to the golden Serengeti, the children of the world are ready to make your acquaintance. During your tour, experience a rainbow of diverse cultures from such far-off locales as:
Scandinavia
The British Isles
Western Europe
Eastern Europe
The Middle East
Asia
Africa
Antarctica
South America
Australia and the South Pacific Islands
Before you return home, the children reunite for a grand finale, reminding us of the common bonds of friendship, laughter and happiness we share—and that if we see the world through the eyes of a child, we'll realize we are all basically the same.
---
It's a Small World | Disney World Fun Facts
The ride dates back to the 1964 World's Fair in New York where it served as a pavilion sponsored by Pepsi.
The ride went relatively unchanged from 1971 to 2004 and then was refurbed from 2004 to 2005. The biggest change in this overhaul was the swapping of the entrance and exit areas.
The song 'It's a Small World,' written by Disney Legends the Sherman Brothers, is the most performed song of all time.
There are over 300 audio-animatronic figures in the ride.
Each doll in the ride has the same face.
The ride holds approximately 600 guests.
The ride lasts roughly 15 minutes.
The ride was sponsored by Mattel from 1988-1998
---
It's a Small World | Disney World Details
---