Here is everything you need to know about Walt Disney World's Animal Kingdom park's Kilimanjaro Safaris ride including ride history, fun facts, photos and more. I hope you find this listing informative and helpful!
Kilimanjaro Safaris | Disney World Description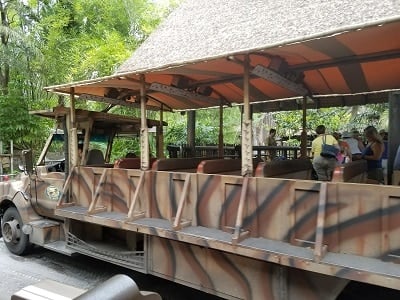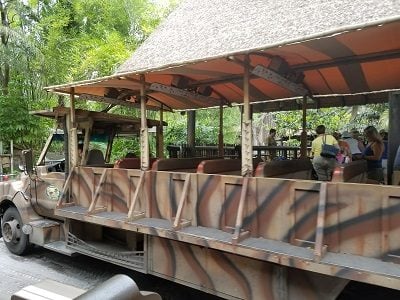 Kilimanjaro Safaris is an attraction located in Disney's Animal Kingdom theme park at Walt Disney World Resort. It is a safari-style ride that takes guests on a journey through a savannah and other African habitats.
The ride takes place on large, open-air vehicles that are designed to resemble African safari trucks. Guests are seated in rows and are given an up-close look at various animals such as lions, elephants, giraffes, hippos, and zebras in their natural habitats. The vehicles travel through different landscapes, including rivers, forests, and grasslands, providing guests with a unique and immersive experience.
The ride is designed to be both educational and entertaining, with trained tour guides sharing information about the animals and their habitats. The attraction also incorporates special effects such as sound and lighting to enhance the experience.
Kilimanjaro Safaris is a popular attraction at Disney's Animal Kingdom, and it is recommended that guests book FastPass+ reservations in advance to avoid long wait times. The ride is suitable for guests of all ages and is a great way to experience the thrill of a safari adventure without leaving the park.
Some animals you may encounter during the tour include:
Antelope
Baboon
Black rhino
Cheetah
Crocodile
Elephant
Flamingo
Gazelle
Giraffe
Hippopotamus
Hyenas
Lion
Okapis
Ostrich
Warthog
White rhino
Wildebeest
Wild dogs
Zebra
Be sure to keep your eyes open and have a camera ready! You never know what amazing animals you'll see on a Kilimanjaro Safaris outing.
---
Kilimanjaro Safaris | Disney World Fun Facts
This ride lasts roughly 20 minutes.
The ride originally had a dead elephant animatronic at the end of it to show the horrors of poaching…it didn't go over very well and was removed.
Night safaris began in 2016.
The flamingo island is a hidden Mickey.
Number of differensafarit species of exotic African wildlife are housed at the Harambe Wildlife Reserve: 34
---
Kilimanjaro Safaris | Disney World Details
---
---