Here is everything you need to know about the amazing La Cantina de San Angel restaurant at Walt Disney World's Epcot including history, reviews, fun facts, photos and more. I hope you find this listing informative and helpful!
Description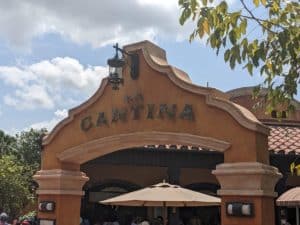 La Cantina de San Angel is a lively quick-service restaurant located in the Mexico pavilion at Epcot in Walt Disney World Resort, Florida. This charming eatery offers guests a taste of authentic Mexican cuisine in a vibrant and festive setting.
The restaurant's name translates to "The Cantina of San Angel," evoking the ambiance of a lively Mexican cantina by the waterfront.
La Cantina de San Angel is situated along the World Showcase Lagoon, providing guests with picturesque views of the water and the Mexico pavilion's iconic pyramid in the background. Its prime location makes it a popular dining spot for guests to enjoy delicious food while watching the sights and sounds of the bustling World Showcase.
The menu at La Cantina de San Angel showcases a variety of classic Mexican dishes, including tacos, empanadas, nachos, and quesadillas. Guests can customize their meals with a range of toppings and flavorful salsas to suit their tastes.
One of the restaurant's signature dishes is the "Taco Trio," featuring three different types of flavorful tacos filled with various meats and toppings. This option allows guests to savor a mix of delicious Mexican flavors in one convenient meal.
To complement the savory dishes, La Cantina de San Angel also offers refreshing beverages, including frozen margaritas and other specialty drinks. Guests can enjoy these flavorful concoctions while taking in the festive ambiance of the Mexico pavilion.
The outdoor seating area, complete with colorful umbrellas and ample seating, creates a lively and convivial atmosphere where guests can enjoy their meals al fresco.
---
Important Details
---
Reviews
---