Here is everything you need to know about the amazing Sci-Fi Dine-In Theater Restaurant at Walt Disney World's Disney's Hollywood Studios including history, reviews, fun facts, photos and more. I hope you find this listing informative and helpful!
Sci-Fi Dine-In Theater Restaurant | Disney World Description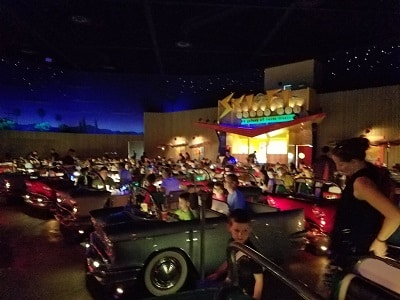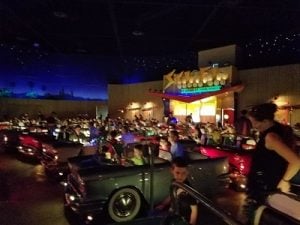 The Sci-Fi Dine-In Theater Restaurant is a unique dining experience located in Disney's Hollywood Studios, a theme park at Walt Disney World Resort. The restaurant is designed to look like a drive-in movie theater from the 1950s, complete with vintage cars that guests sit in while they dine.
The menu at the Sci-Fi Dine-In Theater Restaurant offers classic American cuisine such as burgers, sandwiches, and milkshakes, as well as vegetarian and gluten-free options. The restaurant also features an extensive beverage menu, including cocktails, beer, and wine.
The restaurant's main attraction is the "movie screen" in front of the diners, which shows a loop of classic science fiction and horror movie trailers, cartoons, and other retro entertainment. The restaurant's atmosphere is enhanced by special effects like starry skies, shooting stars, and thunderstorms, all designed to create an immersive and nostalgic experience for diners.
The Sci-Fi Dine-In Theater Restaurant is a popular choice for families and anyone looking for a unique and fun dining experience. Reservations are recommended due to the restaurant's popularity and limited seating.
---
Sci-Fi Dine-In Theater Restaurant | Disney World Fun Facts
Movies shown in the Sci-Fi Dine-In Theater Restaurant include:
Robot Monster
Cat Women of the Moon
Devil Girl from Mars
It Conquered the World
Invasion of the Saucer Men
The Amazing Colossal Man
Attack of the 50 Foot Woman
Plan 9 From Outer Space
The Giant Gila Monster
The Horror of Party Beach
Frankenstein Meets the Space Monster
---
Sci-Fi Dine-In Theater Restaurant | Disney World Details
---
Sci-Fi Dine-In Theater Restaurant | Disney World Reviews
---