Here is everything you need to know about the amazing Sprinkles shop at Walt Disney World's Disney Springs including history, reviews, fun facts, photos and more. I hope you find this listing informative and helpful!
Sprinkles | Disney World Description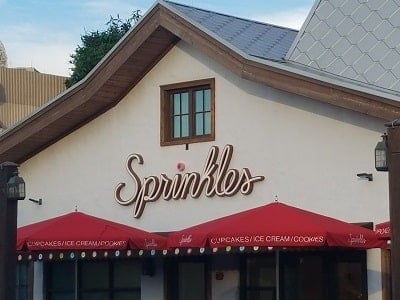 Sprinkles is a bakery located at Disney Springs at Walt Disney World. The bakery is known for its cupcakes, which are made from scratch daily using high-quality ingredients and decorated with the signature Sprinkles modern dots.
In addition to cupcakes, Sprinkles also offers a variety of other baked goods, including cookies, brownies, and ice cream. Guests can choose from a variety of flavors, including red velvet, dark chocolate, vanilla, and banana. There are also seasonal flavors available throughout the year.
Sprinkles features a modern and trendy design with a large glass storefront, making it easy for guests to see the colorful cupcakes on display. The bakery is open for breakfast, lunch, and dinner and accepts both cash and credit cards. It is a popular destination for guests looking for a sweet treat while exploring Disney Springs.
---
Sprinkles | Disney World Details
Disney Resort: Walt Disney World Resort
Disney Park: Disney Springs
Attraction Type: Restaurant
Year Opened: 2016
Type of Restaurant: Bakery
---
Sprinkles | Disney World Reviews
---