Here is everything you need to know about Walt Disney World's Magic Kingdom's The Hall of Presidents show including history, fun facts, photos and more. I hope you find this listing informative and helpful!
The Hall of Presidents | Disney World Description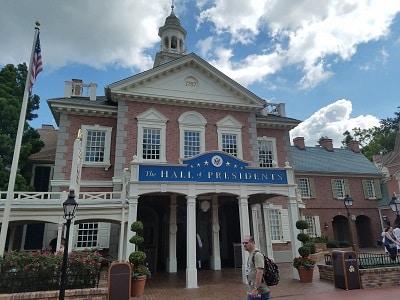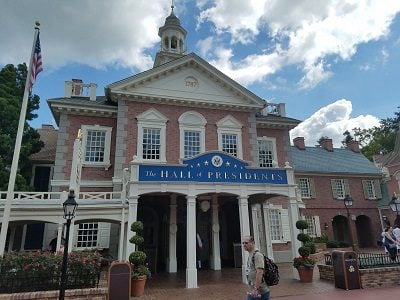 Discover the unique relationship between the President and the American people during this rousing presentation.
Enter the pristine Hall of Presidents in the heart of Liberty Square—modeled after Independence Hall in Philadelphia—and make your way beneath an awe-inspiring grand rotunda. Peruse an authentic artifact collection nearby featuring such treasures as George Washington's dental instruments and Abraham Lincoln's leather portfolio.
The Presidents Will See You Now
Stroll into the 700-seat main theater, home to 3 massive projection screens and a grand proscenium. As the lights dim, sit back and enjoy an original film—developed by a Pulitzer Prize-winning historian—relaying the dramatic story of the United States of America.
During the presentation, revel in America's enduring origins, the formation of our Constitution and the hard-fought struggles along the way—such as the American Revolution and the Civil War. Listen to the stirring words of John F. Kennedy echo throughout the theater and watch Abraham Lincoln—in attendance on stage—deliver his Gettysburg address.
Then, witness a very special display as the curtain rises to reveal each and every United States President, together for the very first time—followed by stirring speeches about the American Dream delivered by Presidents George Washington and Donald Trump.
---
The Hall of Presidents | Disney World Fun Facts
The Hall of Presidents is a show that features animatronic figures of all the U.S. presidents, from George Washington to the current president.
The attraction is designed to educate guests on the history of the U.S. presidency and the role of the president in American government.
The show features a film that explains the history of the U.S. presidency and the role of the president.
The show also includes an animatronic Abraham Lincoln who delivers a speech about the importance of the Constitution and the principles of democracy.
The attraction has undergone several updates throughout the years, with new presidents added and special effects improved.
The Hall of Presidents is the only attraction in the Magic Kingdom that features all the U.S. presidents in one location.
The show is particularly popular among history buffs and those interested in U.S. politics.
---
The Hall of Presidents | Disney World Details
---