Here is everything you need to know about the amazing The Hollywood Brown Derby restaurant at Walt Disney World's Disney's Hollywood Studios including history, reviews, fun facts, photos and more. I hope you find this listing informative and helpful!
The Hollywood Brown Derby Description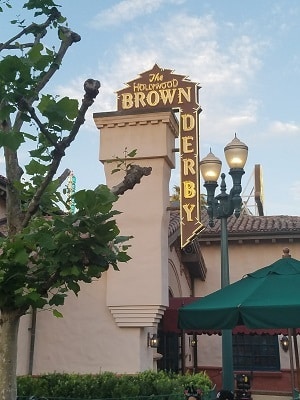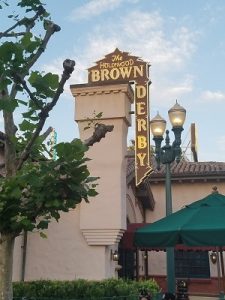 Step into the Golden Age of Hollywood at this warm, wood-paneled restaurant serving contemporary American cuisine at Disney Hollywood Studios' The Hollywood Brown Derby.
Star-Studded Legacy
Dine in an authentic replica of the famous Brown Derby, a Tinseltown landmark steeped in glamour and glitz. The walls are adorned with caricatures of famous faces—a tradition that began with the original restaurant—and the upscale atmosphere harkens back to the Golden Age of Hollywood.
Signature Dishes
Experience the delectable legacy of the original Brown Derby, with timeless dishes and classic cocktails.
Savor such specialties as pork tenderloin, seasonal grouper, grilled filet of beef with a white truffle and mushroom mashed potato, and the famous Brown Derby Cobb salad which follows the recipe created by Bob Cobb, owner of the historic California Brown Derby.
For the perfect finale to any meal, indulge in The Hollywood Brown Derby Dessert Trio: 3 mini desserts of your choice, chosen from our decadent dessert list. You can also delight in sumptuous chocolate creations, crème brûlée or our grapefruit cake—another classic offering from the original restaurant!
Guests 21 years of age and up can enjoy classic cocktails poured tableside, in addition to Old and New World wines from Italy, France, California, Australia and beyond—sample three varieties from around the world with different wine flights!
---
The Hollywood Brown Derby Details
---
The Hollywood Brown Derby Reviews
---
---