Here is everything you need to know about Walt Disney World's Magic Kingdom's Tomorrowland Speedway ride including history, fun facts, photos and more. I hope you find this listing informative and helpful!
Description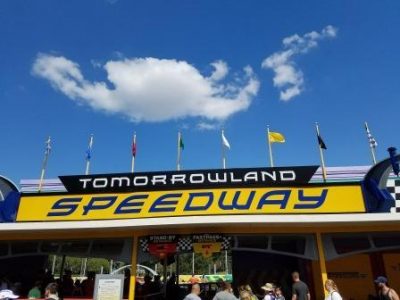 Tomorrowland Speedway is a classic and beloved attraction located in the Tomorrowland area of Magic Kingdom at Walt Disney World Resort in Florida. The attraction has been entertaining guests for decades, offering a fun and nostalgic experience that harkens back to the golden age of American car culture.
The Tomorrowland Speedway features a track with gasoline-powered miniature cars that guests can drive themselves. The cars are designed to resemble classic race cars, complete with colorful exteriors and steering wheels, giving young and old alike the opportunity to feel like they're racing drivers.
Upon boarding their cars, guests embark on a leisurely drive around the winding track, passing through a charming landscape of faux gas pumps, lush greenery, and vibrant decorations. The experience allows families to enjoy a leisurely ride together, with the cars moving at a gentle pace suitable for all ages.
Children often delight in the chance to "take the wheel" and feel a sense of independence as they control their own car, making it an ideal attraction for families with young children. The cheerful atmosphere and picturesque surroundings make it a joyous and photogenic experience for all guests.
Tomorrowland Speedway's enduring popularity lies in its simplicity and timeless appeal. While the technology and theming have evolved over the years, the essence of the attraction has remained consistent, providing guests with a nostalgic glimpse into the past while celebrating the excitement of automobile travel and racing.
As with all Disney attractions, Tomorrowland Speedway exemplifies the company's commitment to storytelling and immersive experiences, allowing guests to create cherished memories with loved ones while enjoying a leisurely drive through Tomorrowland's whimsical setting. It remains a must-visit attraction for guests seeking a lighthearted and charming experience at the Happiest Place on Earth.
---
Fun Facts
The ride has been shortened to roughly 2/3rds of the opening day length.
The original name of the ride was Grand Prix Raceway until 1996 and then Tomorrowland Indy Speedway until 2009.
The attraction features a variety of cars, including standard and double-seater cars, allowing guests of all ages and sizes to ride.
The ride's queue features a number of interactive elements, such as a large race car model, and a number of Tomorrowland-themed posters and signs.
The attraction is popular among guests looking for a fun and thrilling ride, and for those who want to experience the thrill of driving a race car.
The ride is also popular among guests with children, as it is one of the few ride attractions at the Magic Kingdom that allows young children to drive with an adult.
The track is approximately 1 mile long, and it features a number of tight turns and straightaways, giving riders a chance to experience the thrill of speed.
The attraction is known for providing a fun and exciting experience for guests of all ages, but it's not recommended for guests who are prone to motion sickness as it's a fast-paced ride.
---
Important Details
---