Here is everything you need to know about Walt Disney World's Magic Kingdom's Tomorrowland Speedway ride including history, fun facts, photos and more. I hope you find this listing informative and helpful!
Tomorrowland Speedway Description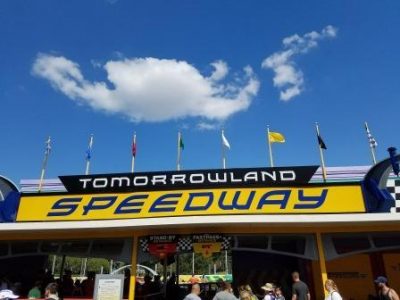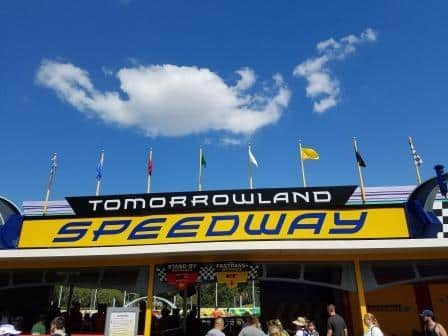 Take the wheel of a gas-powered car and speed through a winding track to Victory Circle.
Stroll past classic racing marquees and make your way to the racing pit, home to growling, multi-colored speedsters. Designed to look like the famed Indiana Motor Speedway, the racetrack includes well-known backdrops of the motoring world, including the Scoring Pylon, Gasoline Alley and the Yard of Bricks.
At the pit, hop inside a streamlined race car—unique in color and design—and strap yourself in for an exciting and challenging drive. As the checkered flag is waved, you're off!
3… 2… 1… GO!
Accelerate at 7 miles per hour around a scenic 0.4 mile-long racetrack. Drive around sharp bends, past lush foliage, and pick up the pace underneath a small bridge. Along the way, listen to an announcer call the race overhead, as you pass such iconic attractions as Space Mountain in the not-too-far-off distance.
Go for a personal best or race against a family member or friend. In the end, coast into Victory Circle, at the top of your game—champion of the track!
Safety First
Featuring a real-working gas pedal and steering wheel, your racecar can easily navigate up and down inclines and around sharp bends just like the real thing.
As a safeguard, a guide rail is located underneath the vehicle and the car is equipped with front and rear bumpers.
---
Tomorrowland Speedway Fun Facts
The ride has been shortened to roughly 2/3rds of the opening day length.
The original name of the ride was Grand Prix Raceway until 1996 and then Tomorrowland Indy Speedway until 2009.
---
Tomorrowland Speedway Details
---
---