Here is everything you need to know about the amazing Trader Sam's Enchanted Tiki Bar restaurant at Disneyland including history, reviews, fun facts, photos and more. I hope you find this listing informative and helpful!
Trader Sam's Enchanted Tiki Bar Description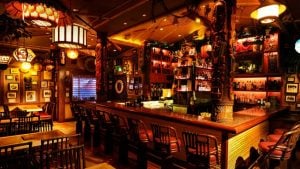 Enter a tropical oasis where colorful cocktails conjure mystical effects and you never know what will happen next!
Welcome, brave adventurers, to the wondrous watering hole of Trader Sam, head salesman of the Amazon Jungle. Sam's expertise in concocting head-shrinking potions soon revealed he also had a head for mixology, and his travels far and wide allowed him to amass intoxicating ambrosial ingredients for his heady brews. Head on over and try them for yourself—if you dare!
All around you are mementos of Sam's exploits, many with a sprinkling of his trademark humor. You may very well laugh your head off! Then try to keep cool as surreal events unfold: Exotic elixirs of untold potency are shaken, walls shake with volcanic eruptions and you may not be able to shake the feeling that the tiki gods are watching you.
The Alluring Sounds of the South Seas
On select evenings at sundown, put on your proverbial grass skirt and sway your way to the torch-lit terrace adjoining Trader Sam's and Tangaroa Terrace . There, you'll hear the soothing Hawaiian-style harmonies of a live acoustic duo as they serenade you under the stars, adding yet another element of enchantment. (source)
---
Trader Sam's Enchanted Tiki Bar Details
---
Trader Sam's Enchanted Tiki Bar Reviews
---
---