Here is everything you need to know about the amazing Tutto Gusto Wine Cellar restaurant at Walt Disney World's Epcot including history, reviews, fun facts, photos and more. I hope you find this listing informative and helpful!
Tutto Gusto Wine Cellar | Disney World Description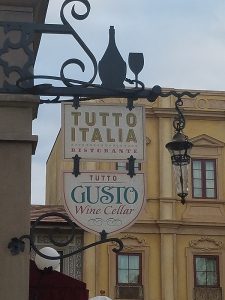 Tutto Gusto Wine Cellar is a hidden gem nestled within the Italy pavilion of Epcot at Walt Disney World Resort in Florida. This intimate and charming wine cellar offers guests a delightful escape from the bustling theme park, inviting them to relax and savor the flavors of Italy in an ambiance reminiscent of a cozy Italian wine bar.
As guests step inside Tutto Gusto, they are transported to an enchanting space adorned with rustic stone walls, wooden accents, and wine barrels, creating an authentic Italian cellar atmosphere. The dim lighting and soft Italian music further enhance the intimate setting, making it an ideal spot for a romantic date night or a peaceful respite from the excitement of the park.
The wine selection at Tutto Gusto is extensive and carefully curated, featuring an impressive array of Italian wines from various regions. Wine enthusiasts and novices alike will find something to suit their tastes, whether it's a bold red, a crisp white, or a delightful sparkling wine. The knowledgeable staff is always ready to offer recommendations and provide insights into the characteristics of each wine.
In addition to its remarkable wine offerings, Tutto Gusto also serves a delectable menu of Italian small plates, or "piattini." These savory and flavorful dishes are designed for sharing and are the perfect complement to the wine selection. Guests can indulge in an assortment of artisanal cheeses, cured meats, bruschettas, pasta dishes, and other delectable Italian specialties.
The cozy seating arrangements and friendly ambiance make Tutto Gusto Wine Cellar a popular spot to unwind and spend quality time with friends and family. Whether guests choose to sit at the bar, gather around high-top tables, or sink into comfortable banquettes, the wine cellar offers a relaxed and convivial atmosphere for all.
Tutto Gusto Wine Cellar is a true hidden treasure within the vast expanse of Epcot's World Showcase, providing guests with an authentic taste of Italy's rich culinary heritage and wine culture. Whether stopping by for a quick glass of wine and a small bite or settling in for a leisurely wine-pairing experience, Tutto Gusto offers an unforgettable journey into the heart and soul of Italy through its delightful wine and cuisine.
---
Tutto Gusto Wine Cellar | Disney World Details
---
Tutto Gusto Wine Cellar | Disney World Reviews
---