Sam Wilson / Falcon / Captain America
Last Updated on: July 8th, 2023
Who is Sam Wilson / Falcon / Captain America?
Sam Wilson, also known as Falcon, is a prominent character in Marvel Comics and a beloved superhero in the Marvel Cinematic Universe (MCU). He is portrayed as a skilled aviator and fighter, and he possesses a technologically advanced winged suit that allows him to soar through the skies and engage in aerial combat.
In the comics, Sam Wilson was created by writer Stan Lee and artist Gene Colan and first appeared in "Captain America" #117 in 1969. He is depicted as a former Air Force pararescue airman who becomes disillusioned with the government and turns to a life of helping others as the Falcon.
As the Falcon, Sam Wilson forms a close partnership with Captain America (Steve Rogers) and becomes one of his most trusted allies. He is known for his strong sense of justice, loyalty, and resourcefulness.
In the Marvel Cinematic Universe, Sam Wilson is portrayed by actor Anthony Mackie. He first appears in "Captain America: The Winter Soldier" (2014) and later becomes a key member of the Avengers.
Throughout the MCU, Sam Wilson demonstrates his heroism and bravery in numerous battles alongside Captain America and the other Avengers. His aerial acrobatics and combat skills, combined with his unwavering dedication to doing what's right, make him a formidable and valuable member of the team.
In "Captain America: Civil War" (2016), Sam receives the gift of Captain America's shield from Steve Rogers, symbolizing his potential to take on the mantle of Captain America in the future. This idea is further explored in the Disney+ series "The Falcon and the Winter Soldier" (2021), where Sam grapples with the weight of becoming the new Captain America and embracing the responsibility that comes with the iconic shield.
The series delves into Sam Wilson's personal journey as he takes on the Captain America mantle, addressing themes of identity, race, and the legacy of heroes. Sam's decision to become Captain America highlights his strength of character and his commitment to carrying on Steve Rogers' legacy in his own way.
Overall, Sam Wilson / Falcon is a charismatic and inspiring superhero, known for his aerial prowess and unwavering dedication to justice. His journey from a skilled ally to embracing the iconic mantle of Captain America showcases the growth and depth of his character in both the comics and the MCU, making him a beloved and essential figure in the Marvel Universe.
The Collection:
Here is the Internet's largest collection of Sam Wilson / Falcon / Captain America related movies, TV shows, toys and other products. As always, new pieces are added to this collection regularly.
---
---
---
---
---
---
---
Now you can enjoy all the features you've come to love with MagicBand plus so much more! Debuting as part of the Walt Disney World Resort 50th…
---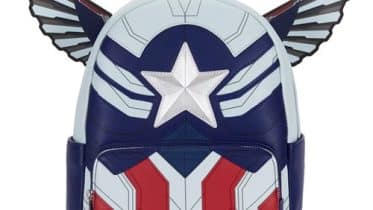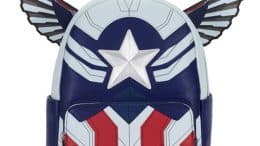 Show off your The Falcon and the Winter Soldier fandom with this The Falcon and the Winter Soldier Falcon Captain America Cosplay Mini-Backpack! It is made of…
---
---