Here is everything you need to know about the amazing Disney movie Bambi including casting, reviews, fun facts and more. I hope you find this listing informative and helpful!
Bambi Description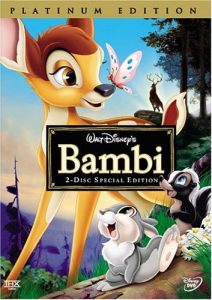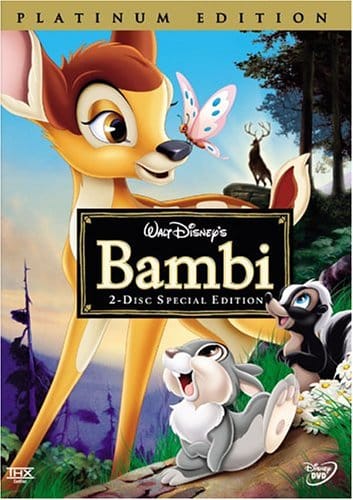 "Bambi" is a classic animated film produced by Walt Disney Productions and released in 1942. It is the fifth animated feature in the Walt Disney Animated Classics series and is based on the 1923 book "Bambi, A Life in the Woods" by Felix Salten.
The film tells the heartwarming and emotional story of Bambi, a young white-tailed deer, as he navigates the challenges and joys of life in the forest. From his birth through childhood and adolescence, Bambi learns valuable lessons about friendship, love, loss, and the cycle of life.
Throughout the film, Bambi forms close bonds with other forest animals, including Thumper, a playful rabbit; Flower, a bashful skunk; and Faline, a young doe. They explore the wonders of the forest together and experience the changing seasons.
One of the most iconic and heart-wrenching moments in the film occurs when Bambi's mother is tragically killed by hunters, leaving him orphaned and alone. This scene, known as the "Bambi's mother" scene, has become a poignant symbol of loss and has resonated with audiences for generations.
"Bambi" is celebrated for its breathtaking animation, innovative use of watercolor backgrounds, and memorable characters. It features a beautifully composed score by Frank Churchill and Edward Plumb, including the Academy Award-winning song "Love Is a Song."
The film's artistry and emotional storytelling have made it a timeless classic and an essential part of Disney's legacy. It has been praised by critics and audiences alike for its realistic depiction of nature and the delicate balance of life in the forest.
Over the years, "Bambi" has remained a beloved film for viewers of all ages, captivating generations with its endearing characters and powerful messages about the importance of nature and family bonds.
In 2011, the United States Library of Congress selected "Bambi" for preservation in the National Film Registry, recognizing its cultural, historical, and aesthetic significance.
Overall, "Bambi" stands as a masterpiece of animation and storytelling, leaving a lasting impact on the world of cinema and enchanting audiences with its timeless charm and emotional depth.
---
Bambi Fun Facts
The movie is based on the book Bambi, A Life in the Woods, by Felix Salten.
MGM originally held the rights to the story, but sold them to Disney in 1937.
The movie was re-released to theaters 6 times after initial release.
The movie preceded Smokey the Bear as the US fire prevention symbol.
A sequel, Bambi II, was a direct-to-video release in the US.
---
Bambi Crew:
Directors: David Hand, James Algar, Samuel Armstrong, Graham Heid, Bill Roberts, Paul Satterfield and Norman Wright
Producer: Walt Disney
Writers: Perce Pearce, Larry Morey, Vernon Stallings, Melvin Shaw, Carl Fallberg, Chuck Couch and Ralph Wright
Music: Frank Churchhill and Edward Plumb
---
Bambi Details
Bambi Trailer:
---