Here is everything you need to know about the amazing Disney movie Bambi including casting, reviews, fun facts and more. I hope you find this listing informative and helpful!
Bambi Description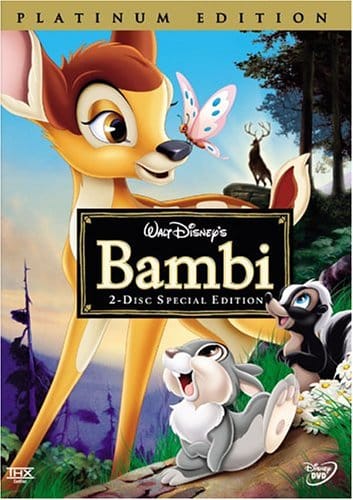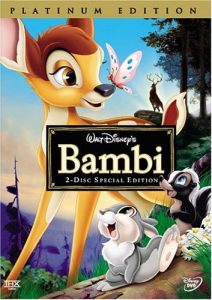 In the heart of the forest, Bambi takes his first wobbly steps and sets out to explore his new world with his friends: a lovable rabbit called Thumper and a bashful skunk named Flower. Their adventures together include skating on "stiff" water, frolicking through the woods and getting acquainted with all the other intriguing inhabitants of the forest. But that is only part of the story. Guided by the wise Friend Owl, the young prince also learns valuable lessons about love, loss, and life.
---
Bambi Fun Facts
The movie is based on the book Bambi, A Life in the Woods, by Felix Salten.
MGM originally held the rights to the story, but sold them to Disney in 1937.
The movie was re-released to theaters 6 times after initial release.
The movie preceded Smokey the Bear as the US fire prevention symbol.
A sequel, Bambi II, was a direct-to-video release in the US.
---
Bambi Crew:
Directors: David Hand, James Algar, Samuel Armstrong, Graham Heid, Bill Roberts, Paul Satterfield and Norman Wright
Producer: Walt Disney
Writers: Perce Pearce, Larry Morey, Vernon Stallings, Melvin Shaw, Carl Fallberg, Chuck Couch and Ralph Wright
Music: Frank Churchhill and Edward Plumb
---
Bambi Details
Bambi Trailer:
---