Here is everything you need to know about the amazing Disney movie Christopher Robin including casting, reviews, fun facts and more. I hope you find this listing informative and helpful!
Description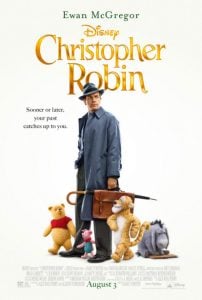 "Christopher Robin" is a live-action fantasy film released by Walt Disney Pictures in 2018. The film is based on the characters created by A.A. Milne and is a continuation of the beloved "Winnie the Pooh" stories.
The story follows an adult Christopher Robin, who has grown up and lost touch with his childhood friends from the Hundred Acre Wood, including Winnie the Pooh, Piglet, Tigger, Eeyore, and others. Christopher Robin, now a workaholic and overwhelmed with the responsibilities of adulthood, has lost his sense of imagination and joy.
One day, Pooh magically appears in London seeking Christopher's help to find their missing friends. Initially resistant to the idea of reuniting with his childhood pals, Christopher Robin eventually embarks on a journey back to the Hundred Acre Wood. During this adventure, he rediscovers the joys of friendship, imagination, and the importance of balancing work and family.
The film explores themes of nostalgia, the loss of innocence, and the significance of holding onto one's inner child. It emphasizes the value of cherishing and preserving the magical moments of childhood and finding joy in the simple things in life.
Ewan McGregor stars as the adult Christopher Robin, while Jim Cummings voices Winnie the Pooh and Tigger, among other classic characters. "Christopher Robin" received praise for its heartwarming story, excellent performances, and nostalgic appeal to both children and adults who grew up with the original "Winnie the Pooh" stories.
The movie serves as a heartwarming reminder of the enduring legacy of A.A. Milne's beloved characters and the timeless messages of friendship, love, and the power of imagination that they bring to audiences of all ages.
---
Crew:
Director: Marc Forster
Screenplay: Alex Ross Perry and Allison Schroeder
Based on characters created by A.A. Milne and E.H. Shepard
Producers: Brigham Taylor and Kristin Burr
Executive Producers: Renée Wolfe and Jeremy Johns
---
Additional Details
---
Christopher Robin Trailer:
---