Here is everything you need to know about the amazing Disney movie Herbie Goes To Monte Carlo including casting, reviews, fun facts and more. I hope you find this listing informative and helpful!
Herbie Goes To Monte Carlo Description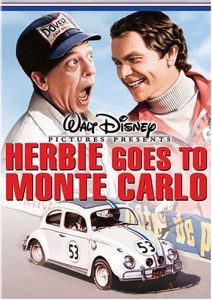 "Herbie Goes to Monte Carlo" is a family comedy film released in 1977 and is the third installment in the popular "Herbie" film series by Walt Disney Productions. Directed by Vincent McEveety, the movie follows the adventures of Herbie, the lovable Volkswagen Beetle with a mind of its own.
In this film, Herbie's owner, race car driver Jim Douglas (played by Dean Jones), and his mechanic friend Wheely Applegate (played by Don Knotts) travel to Europe to participate in the fictional Trans-France Race. Herbie tags along for the journey, and along the way, he meets a charming female Volkswagen Beetle named Giselle (played by Julie Sommars).
As the race progresses, Herbie and Giselle develop a romantic connection, and together, they encounter various challenges, including sabotage attempts and humorous mishaps. Throughout the film, Herbie proves his racing prowess and loyalty to his friends, making him a lovable and endearing character to the audience.
"Herbie Goes to Monte Carlo" features exciting car races, picturesque European locations, and a heartwarming story of love and friendship. The film also includes a memorable race scene through the streets of Monte Carlo, providing thrilling and entertaining moments for viewers of all ages.
The movie received a positive response from both audiences and critics and contributed to the continued popularity of the "Herbie" film series. It also spawned another sequel, "Herbie Goes Bananas" (1980), further cementing the beloved character of Herbie in Disney's film legacy.
Overall, "Herbie Goes to Monte Carlo" is a delightful and lighthearted family film that showcases the enduring appeal of the anthropomorphic car and its ability to capture the hearts of audiences worldwide with its charm, humor, and feel-good entertainment.
---
Herbie Goes To Monte Carlo Cast:
Dean Jones: Jim Douglas
Don Knotts: Wheely Applegate
Julie Sommars: Diane Darcy
Jacques Marin: Inspector Bouchet
Roy Kinnear: Quincey
Bernard Fox: Max
Eric Braeden: Bruno von Stickle
Xavier Saint-Macary: Detective Fontenoy
François Lalande: Monsieur Ribeaux
Alan Caillou: Emile
Laurie Main: Duval
Mike Kulcsar: Claude Gilbert
Johnny Haymer: Race official
Stanley Brock: Taxi driver
Gérard Jugnot: Waiter
Jean-Marie Proslier: Doorman
Tom McCorry: Showroom M.C.
Lloyd Nelson: Mechanic
Jean-Jacques Moreau: Truck driver
Yveline Brière: Girl friend
Sébastien Floche: French tourist
Madeleine Damien: Old woman
Alain Janey: Man at café
Raoul Defosse: Police Captain
Ed Marcus: Exhibit M.C.
---
Herbie Goes To Monte Carlo Crew:
Director: Vincent McEveety
Producer: Ron Miller
Music: Frank De Vol
---
Herbie Goes To Monte Carlo Details
Herbie Goes To Monte Carlo Trailer:
---