Here is everything you need to know about the amazing Disney movie Hocus Pocus including casting, reviews, fun facts and more. I hope you find this listing informative and helpful!
Hocus Pocus Description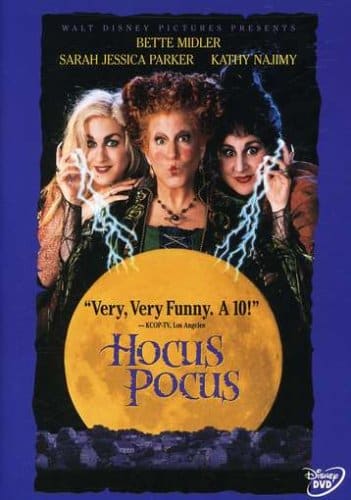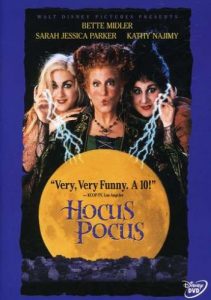 "Hocus Pocus" is a comedy-fantasy film released in 1993. Directed by Kenny Ortega, the movie has become a beloved Halloween classic. It follows the story of three witches who are resurrected in modern-day Salem, Massachusetts, after a teenager named Max lights a cursed candle on Halloween night.
The three witches, known as the Sanderson sisters—Winifred (Bette Midler), Sarah (Sarah Jessica Parker), and Mary (Kathy Najimy)—must consume the life force of children to stay immortal. Max, along with his younger sister Dani and their friend Allison, embark on a mission to stop the witches from carrying out their nefarious plan.
The film combines elements of comedy, adventure, and spooky charm, making it a family-friendly Halloween favorite. "Hocus Pocus" features a mix of humorous and eerie moments, memorable performances, and catchy musical numbers.
Although the film was not a major success upon its initial release, it gained a significant following through repeated airings on television and home video. Over the years, "Hocus Pocus" has become a cult classic and is often celebrated as an essential part of Halloween entertainment.
With its witchy shenanigans, witty dialogue, and spirited performances, "Hocus Pocus" continues to capture the imagination of audiences, young and old, during the Halloween season, making it a perennial favorite for fans of magical and light-hearted films.
---
Hocus Pocus Fun Facts
Although not an immediate box office success, "Hocus Pocus" has gained a significant cult following over the years and has become a Halloween staple.
The movie features a star-studded cast, including Bette Midler, Sarah Jessica Parker, and Kathy Najimy as the Sanderson sisters.
"Hocus Pocus" was filmed in Salem, Massachusetts, adding to the authentic feel of the Halloween setting.
The iconic song "I Put a Spell on You," performed by Bette Midler as her character Winifred Sanderson, has become a Halloween anthem.
The film's humor, combined with its spooky and family-friendly elements, has made it a favorite among audiences of all ages.
"Hocus Pocus" was released in July 1993, which many consider an unusual time for a Halloween-themed movie. However, it has since become synonymous with the holiday season.
The film's director, Kenny Ortega, later went on to direct other popular musical films such as "High School Musical" and "The Descendants."
---
Hocus Pocus Cast:
Bette Midler: Winnie Sanderson
Kathy Najimy: Mary Sanderson
Sarah Jessica Parker: Sarah Sanderson
Omri Katz: Max Dennison
Thora Birch: Dani Dennison
Vinessa Shaw: Allison Watts
Sean Murray: Thackery Binx
Doug Jones: Billy Butcherson
Charles Rocket: Dave Dennison
Stephanie Faracy: Jenny Dennison
Amanda Shepherd: Emily Binx
Larry Bagby: Ice
Tobias Jelinek: Jay
Steve Voboril: Elijah Morris
Norbert Weisser: Mr. Binx
Kathleen Freeman: Miss Olin
Garry Marshall: Man in devil costume
Penny Marshall: Wife of man in devil costume
---
Hocus Pocus Crew:
Director: Kenny Ortega
Producers: Steven Hall and David Kirschner
Screenplay: Neil Cuthbert and Mick Garris
Music: John Debney
---
Hocus Pocus Details
Hocus Pocus Trailer:
---