Here is everything you need to know about the amazing Disney movie Lilo & Stitch 2: Stitch Has a Glitch including casting, reviews, fun facts and more. I hope you find this listing informative and helpful!
Description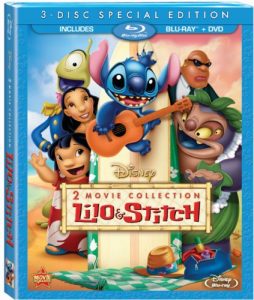 "Lilo & Stitch 2: Stitch Has a Glitch" is a direct-to-video animated film released in 2005 by Walt Disney Pictures. It is a sequel to the 2002 animated film "Lilo & Stitch" and is part of the "Lilo & Stitch" franchise. The film is directed by Michael LaBash and Tony Leondis.
The story picks up after the events of the first film, where Lilo, a young girl from Hawaii, has adopted a mischievous and lovable alien creature named Stitch. In "Stitch Has a Glitch," Lilo and Stitch are enjoying their life together as a family on the beautiful island of Kauai. However, Stitch starts experiencing strange malfunctions and glitches, causing him to revert to his destructive programming.
As Stitch's glitches become more frequent and severe, Lilo becomes worried about her friend's well-being. She and Stitch try to find a solution to his glitching, but their efforts seem to be in vain. Lilo seeks the help of her older sister, Nani, and their alien friends Jumba and Pleakley to save Stitch and find a way to fix him.
Throughout the film, Lilo and Stitch's bond is tested as they face challenges together. It becomes a story of love, friendship, and loyalty as Lilo tries to show Stitch that he is more than his programming and that he can choose to be good.
"Lilo & Stitch 2: Stitch Has a Glitch" explores themes of family, acceptance, and embracing one's uniqueness. It also delves into the idea of self-discovery and learning from one's mistakes. The film retains the heartwarming charm and humor of its predecessor while introducing new adventures and dilemmas for the beloved characters.
Although "Lilo & Stitch 2: Stitch Has a Glitch" was released straight to home video, it received positive reviews for its touching story, endearing characters, and beautiful animation. It remains a favorite among fans of the original film and the "Lilo & Stitch" franchise as a whole.
Overall, "Lilo & Stitch 2: Stitch Has a Glitch" is a delightful continuation of the heartwarming tale of Lilo and Stitch. It teaches important life lessons while providing enjoyable entertainment for audiences of all ages.
---
Crew:
Director: Michael LaBash and Tony Leondis
Producers: Christopher Chase
---
Additional Details
---
Lilo & Stitch 2: Stitch Has a Glitch Trailer:
---