Here is everything you need to know about Walt Disney World's Magic Kingdom's extinct Stitch's Great Escape! attraction including history, fun facts, photos and more. I hope you find this listing informative and helpful!
Stitch's Great Escape! | Disney World Description
Stitch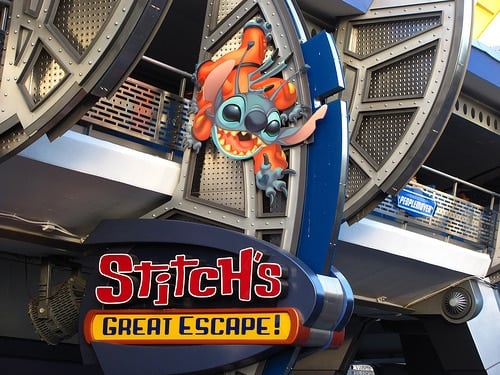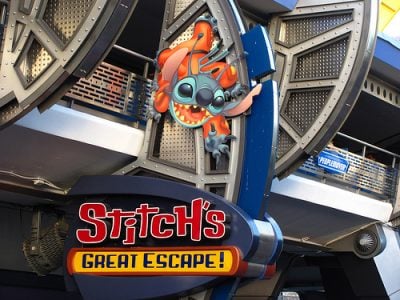 is on the loose in this "theater-in-the-round" that's a treat for your eyes, ears and nose—available seasonally throughout the year!
Experiment 626 Has Escaped
As a newly appointed security recruit, prepare for a close encounter of the mischievous kind with a runaway Stitch.
Recruit Check-In
Amid a row of blinking monitors, begin your intergalactic training session with an eye-opening welcome video and discover what it means to be a guard with the Galactic Federation Prisoner Teleport Center.
Lower Security Prisoner Teleportation Chamber
Step forward and learn how the science of prisoner teleportation works from a helpful Audio-Animatronics robot named Sergeant.
Level 3 Emergency!
A mysterious high-security Level 3 prisoner has been captured and is due for arrival! Because Level 3 aliens can be quite dangerous, make your way to the High Security chamber to assist with the incoming teleportation.
High Security Prisoner Transport Chamber
Inside, take a seat around a floor-to-ceiling tube. As the teleportation begins, the prisoner is revealed to be none other than free-spirited Stitch, who naturally manages to break out of the transport chamber and wreak havoc throughout the audience in the dark!
This attraction is a multi-sensory experience featuring audio, video, olfactory and Audio-Animatronics special effects.
While the experience is appropriate for all ages, the show takes place in a darkened theater and there are several surprises and loud noises throughout the performance.
---
Stitch's Great Escape! | Disney World Fun Facts
The Stitch animatronic was 39 inches tall.
---
Stitch's Great Escape! | Disney World Details
---