Here is everything you need to know about the amazing Disney movie Mickey Donald Goofy: The Three Musketeers including casting, reviews, fun facts and more. I hope you find this listing informative and helpful!
Mickey Donald Goofy: The Three Musketeers Description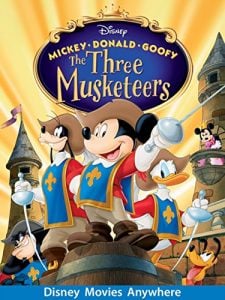 "Mickey, Donald, Goofy: The Three Musketeers" is a direct-to-video animated musical adventure film released in 2004 by Walt Disney Pictures. It is a humorous and action-packed retelling of Alexandre Dumas' classic novel "The Three Musketeers," with a Disney twist.
In the film, Mickey Mouse, Donald Duck, and Goofy are humble janitors who dream of becoming musketeers and serving Queen Minnie Mouse. However, they face a series of comical challenges and mishaps that prevent them from achieving their dream.
When Captain Pete, the head of the musketeers, plots to take over the kingdom, the trio is recruited by Minnie Mouse to save the day and stop Pete's evil plans. With their bravery and determination, Mickey, Donald, and Goofy prove that they have what it takes to become true musketeers and protect the kingdom.
The film combines classic Disney humor, engaging musical numbers, and exciting action sequences to create an entertaining and family-friendly adventure. It celebrates the power of friendship, teamwork, and believing in oneself.
Throughout the movie, the characters encounter iconic Disney villains like Pete, who adds humor and mischief to the story. The film also features original songs, such as "All for One and One for All," which captures the spirit of camaraderie and unity among the three friends.
"Mickey, Donald, Goofy: The Three Musketeers" is a delightful and lighthearted film that showcases the beloved Disney characters in a swashbuckling and fun-filled adventure. It highlights the timeless themes of loyalty, courage, and the importance of pursuing one's dreams, making it an enjoyable watch for audiences of all ages.
---
Mickey Donald Goofy: The Three Musketeers Cast:
---
Mickey Donald Goofy: The Three Musketeers Crew:
Directors: Donovan Cook
Producer: Margot Pipkin
Music: Bruce Broughton
---
Mickey Donald Goofy: The Three Musketeers Details
Mickey Donald Goofy: The Three Musketeers Trailer:
---